In order to help you choose between a standard integration module and a customization, let's, first, discuss what you can integrate and what it offers to your business.
Different ways to integrate SuperOffice CRM and your ERP system
Integration means letting data flow between two (or more) systems so that you can re-use the data in the other system(s). Synchronized data can help in various business situations, such as selling, invoicing and customer service.
An integration between a CRM and an ERP system can take any of the following ways:
1. Synchronizing customer contact data
Synchronization is the most common form of integration. A sync engine regularly copies customer data between the CRM and the ERP, making both systems contain the same data. This means that you only need to update data fields in one system. Synchronization reduces errors and improves the value of the customer database.
2. Presenting financial data in the CRM system
In addition to the customer data, you can also synchronize key figures from the ERP system into the CRM system, such as:
Payment terms
Discount terms
Total sales to date
Currency
Balance limit
Credit rating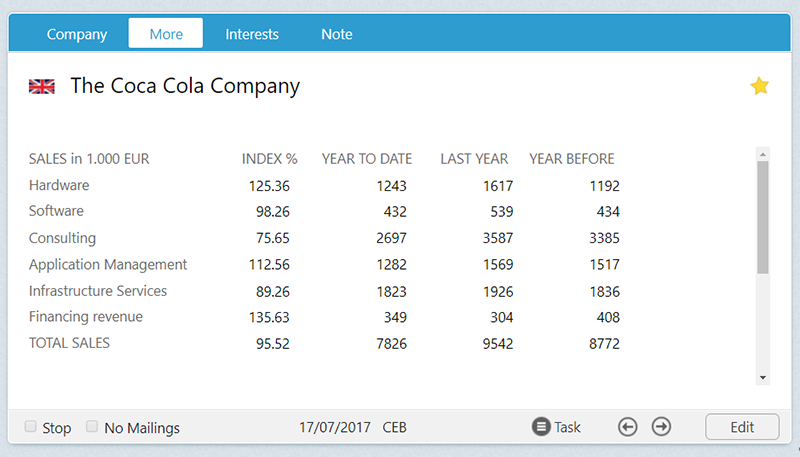 Having access to such information in the CRM system helps sales and marketing people to make the right decisions before starting a new project.
Similarly, having access to such financial information as invoice history and outstanding orders is especially useful in sales or customer service situations where a complete picture of a customer is required.
Instead of importing this type of data, it is more common to present it in SuperOffice as a report, viewed in a dedicated web panel. This way modules or apps will provide your customer-facing staff with a complete customer overview – all without a complex integration project involved.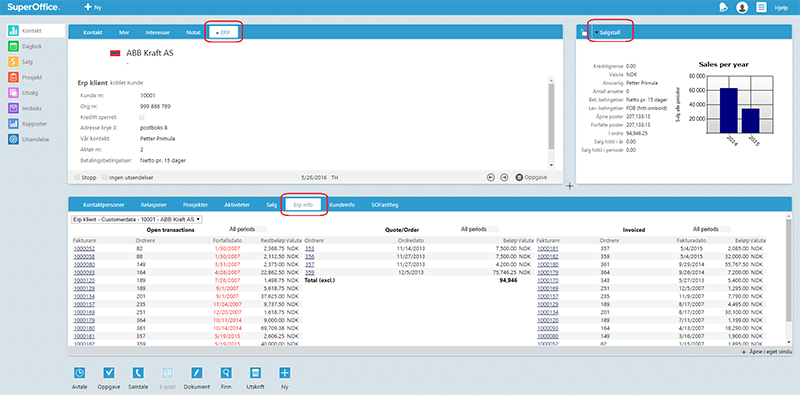 3. Synchronizing product and price information
Many have discovered the benefits of using the built-in Quote feature (video) in SuperOffice, which lets any sales rep create a quotation directly from SuperOffice CRM. This feature contains a product and price list inside SuperOffice CRM which is used when creating a quote. It is perfectly possible to do a one time import or manually create and update this list in SuperOffice Settings and Maintenance. We ourselves started off like that.
However, if your company has long and complex product lists, if your prices change frequently, or if you require a warehouse status before creating a quotation, then you need a tighter integration between your ERP system and SuperOffice CRM. This is when a Quote Connector module comes in handy.
A Quote Connector module allows you to look up the current price of a product item in your ERP system and add it into SuperOffice Quote in real-time. This means that even though a sales person only uses SuperOffice CRM to create a quotation, in reality he/she gets the price information directly from their ERP system that holds the master information.
This form of "search and fetch" integration makes the best of both systems. This type of integration may take on a more customized form and if so, requires more planning than the previously mentioned ways of integration. There are however a number of standard quote apps available that are worth exploring first.
4. Sending order information from CRM to ERP for invoice
The final type of integration is sending an accepted order from SuperOffice Quote into your ERP system.
Regardless of whether you use the SuperOffice Price Directory or a Quote Connector, you'd want to avoid entering the same information in two different places just to invoice your customers, right?
Instead, you can automate this task by letting the system send the information from the CRM, ready to be invoiced in your financial system. Again, there are standard methods and modules that an integration specialist can use to set this up for you.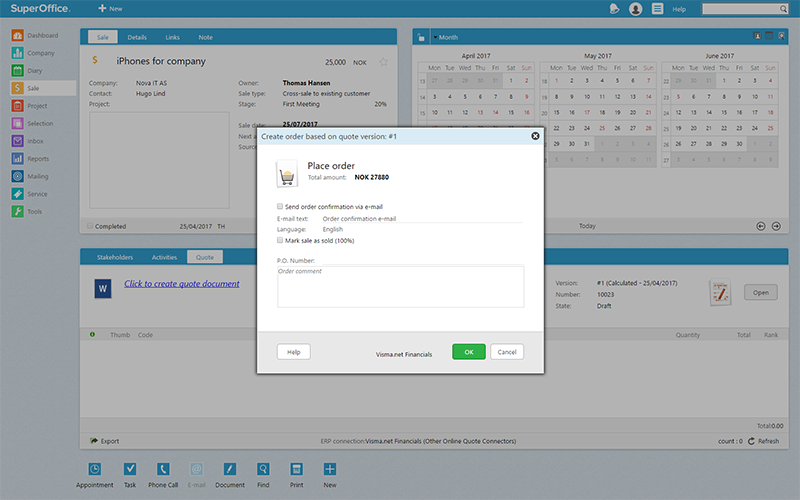 Choose the right integration for your business
There are many benefits of integrating your CRM and ERP systems: automation of processes, easy exchange and seamless overview of customer data – to mention but a few.
Yet, there are things to consider before implementing an ERP/CRM integration, as it's not a case of clicking "Next, next and finish". Our experience tells us that the advantages of integration far outweigh considerations, especially if you go about them the right way.
Contact us to learn more about the different ways an ERP/CRM integration can benefit your business.
We have plenty of local partners that offer modules and help with integrations. They are listed as partners on our website.
Also, CRM Online users may see which ERP integration modules are available in SuperOffice App Store. There the vendors offer sync apps that include the synchronizing customer data and presenting financial data from your ERP solution inside SuperOffice. T have created two types of apps
Note that if you can't find what you are looking for, then do contact us or your SuperOffice partner to discuss your needs. There are, for example, generic sync engines available and possible customizations opportunities that may fit your business needs.