Artificial Intelligence Services
Oppdatert på 22. jun 2022
Save time and reduce manual work by automating various business processes, without extensive knowledge of the Artificial Intelligence (AI) technology. Increase efficiency by utilising the power of AI in SuperOffice CRM.
AI and machine learning usually require a lot of a company's resources to draw benefits from them. The complexity of AI have often been a hurdle for companies. It's a common concern AI in modern business applications that it's too complex for everyday users contrary to expectations. Using AI doesn't always require coding knowledge and with our approach of embedding AI into SuperOffice CRM everything is simplified and everyone can benefit from it.
AI can turn those enormous data collections into meaningful information, allowing workers to simplify their workload and gather more insights from data at their fingertips. Automated AI tools can also facilitate communication between your employees and your customers. This means you can significantly improve the overall customer experience by simply offering quicker responses to your customers.
AI can help you make sense of data you have and help you automate processes that save time. It will also help you be more proactive in your customer engagement.
Note: These functions require AI Platform and specific licenses. The services are billable with a fixed price per month per service.
AI Services
In this how-to guide, you'll learn about the different AI services you can hook up to:
Text analysis
Categorization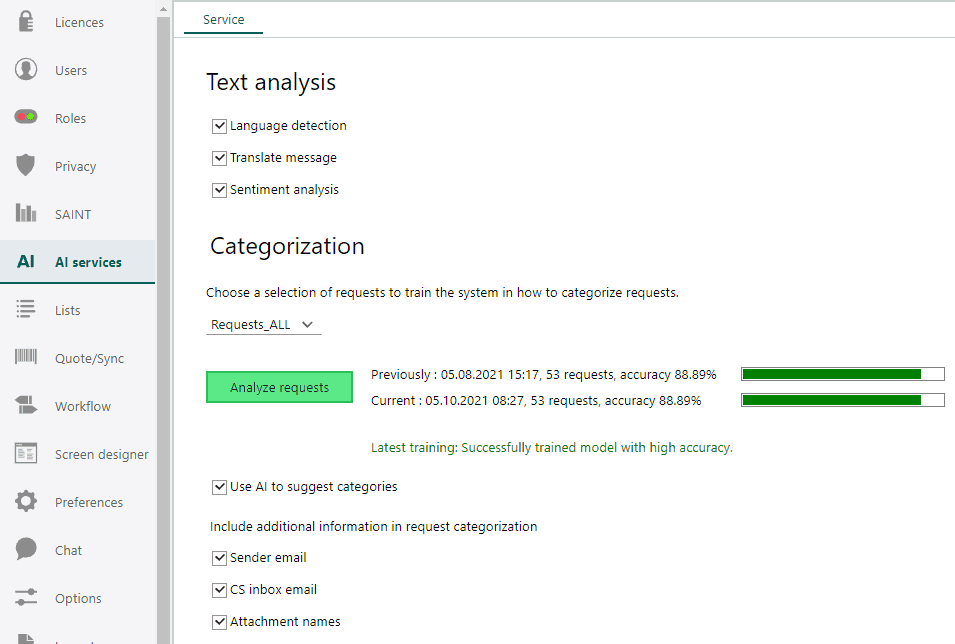 SuperOffice artificial intelligence services
Chatbot
Chatbots are made to simulate conversations and often used to help customers visiting your website with support questions, collecting more information, suggest products, or even help customers in tasks like pay a bill or make a reservation. The applications are many and growing, and whilst the benefits can be many, it's by nature one of the more complex applications of AI technologies. AI tries to get machines to learn the complexities of human language, but there are still some challenges in conversing with unpredictable humans.
We have created a chatbot connector that allows SuperOffice CRM to talk to your bot service of choice. By using data from the bot service, the chatbot will be able to predict the next question and provide additional information the customer may need. If necessary you could always direct your customer to a live chat agent or offer help via the request handling system in SuperOffice Service.
There are different options available in the chat channel to activate the chatbot. Learn more about it in the technical documentation: Chatbot overview.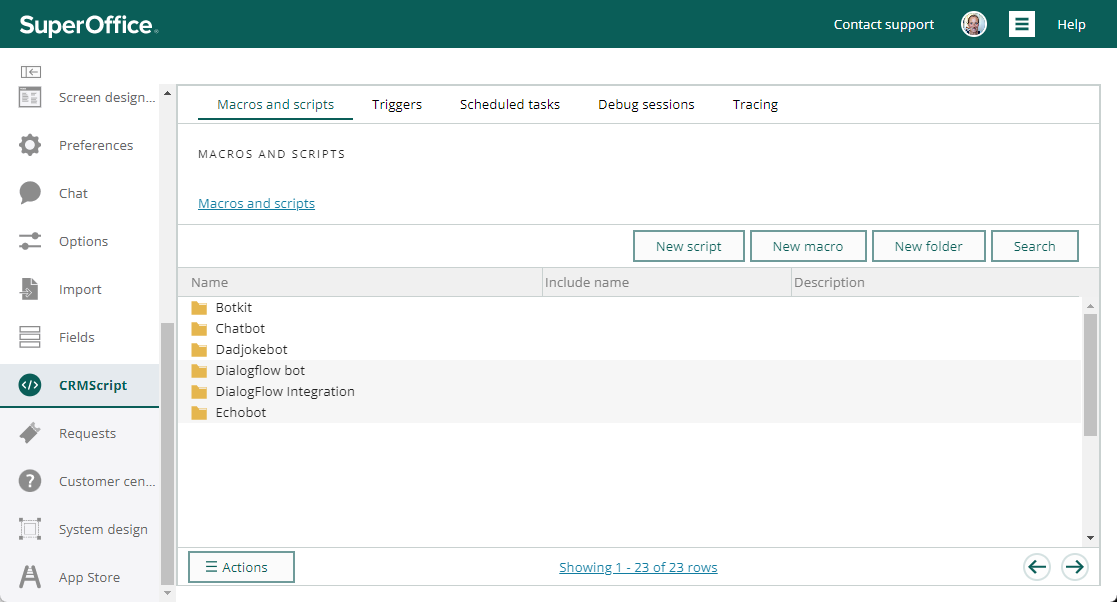 In CRMScript you have access to all the default bot services
Related:
Fant du denne informasjonen nyttig?