Customise contact interests
Oppdatert på 22. apr 2022
When you want to create the target group containing contacts who are relevant for your different communications or activities, you'll need the right selection criteria. Learn how to set up your own contact interests in this guide.
By adding or editing the contact interests on the contact card, you can save additional profile information that reflects which type of communication people are interested in or the different ways you want to segment your customer database.
Once you've saved a person's contact interests, you can, for example, create a more targeted marketing list by making a selection based on these interests.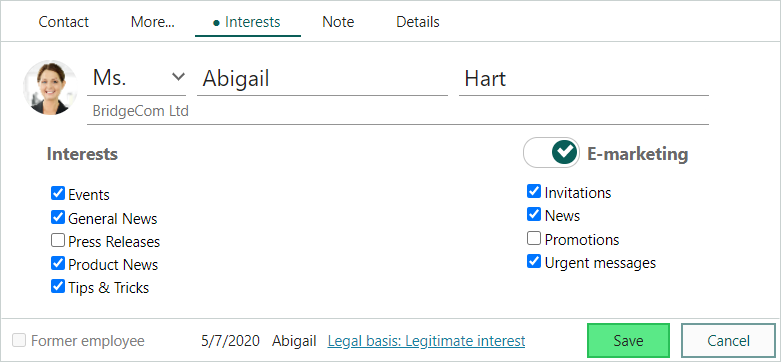 The contact card shows the interests to a contact
As an administrator, you can add and edit interests by editing the list Contact – Interest in the Settings and Maintenance module.
Determine your customers' interests
To better understand and offer relevant products to your customers, you want to find out what your customers and prospects are interested in.
A great way to find out what your customers want to read (receive from you) is by sending a mailing where you give the recipients the option to click on specific links that automatically activate certain interests on their Contact card. You can read more about it in this guide: Create tracked links.
The list for contact interest
Contact interest is a list which contains serveral list items and therefore, you can add and remove the items. Other examples of lists are: Company - Category, Company - Business and Company - Interest.
Watch this video and learn how to add and remove contact interest items from a list. The example used in this video is of the Company - Category which has the same setup as Contact - Interest (video length - 2:06):
Related:
Fant du denne informasjonen nyttig?