Set up customer languages in Service
Oppdatert på 17. jun 2022
To offer great customer experience you need to support your customers in their local language when they visit your Customer centre and in the communication with the customer. Learn how to set up Customer languages in this how-to guide.
By setting up extra languages you make it easy for your customers to register, comment on and check the status of their requests in their preferred language. In addition, they will have access to all the FAQs in their chosen language.
Out of the box you can add 6 different languages. If the language you wish to use isn't available, please contact us and our consultants will be able to help you add the additional languages you need.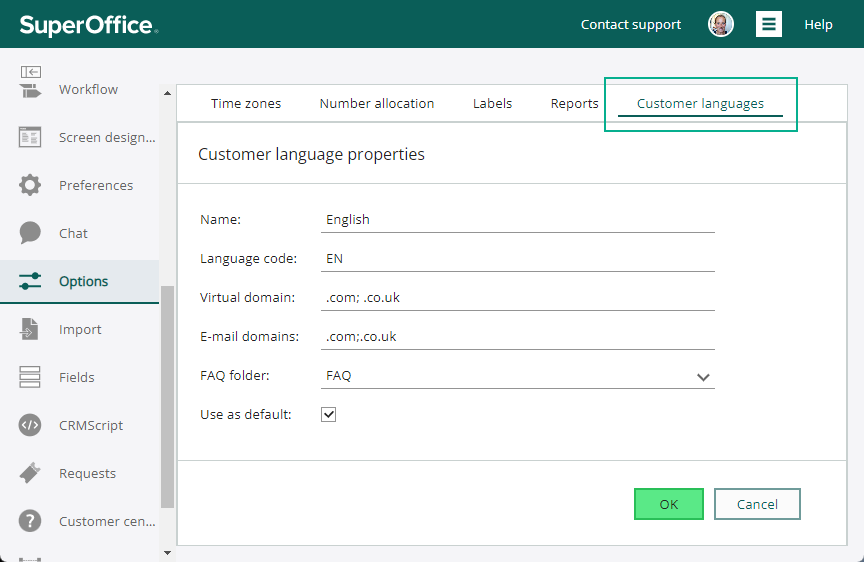 You can set up a new language in the Customer language properties dialog
Tip: You need to add a language folder stucture in Knowledge base > FAQ. It is important to connect correct FAQ's to the right language.
How to set up additional languages
You can set up languages in the Settings and maintenance module (1) and in SuperOffice Service (2).
Go to the Settings and maintenance module and click on Options in the navigator menu on the left-hand side. Then select the Customer languages tab at the top.
Go to the SuperOffice Service module. Then click on the System menu button and choose Customer languages from the drop-down menu.
Note: Customer languages are one of the features you get with the license for Customer Engagement platform.
Related:
Fant du denne informasjonen nyttig?