Create your own workflow guides
Oppdatert på 1. jun 2022
Workflow guides, such as the sales guide and project guide, help users stay in control and work according to best practices.
Help your users to stay in control of every step in the process, ensure all projects are delivered on time and all sales opportunities are followed up. Without a pre-defined workflow guide, it's easy to lose control, especially when juggling multiple projects or sales at the same time. You may lose sight of the things that need to be done during each stage of your project or sales, and as result – miss your deadline.
Work in a more structured way
Every project and sales opportunity will have a status that indicates how far you are into your process. A project status can be "Planned", "In progress" and "Completed", for example. And a sale can have the stage: "Lead", "First meeting", "Proposal" or "Verbal acceptance".
Every status in your workflow guide contains the necessary follow-up activities and documents, to guide the user through the entire process.
You can create a different guide for each type of project or sale you use. Your guide will be available when a new sale or project is created.
When one of the stages in your guide is completed, SuperOffice CRM will automatically prompt the next step, so that you could plan your next activity straight away. This way you'll know you are in control, and you'll never miss another milestone.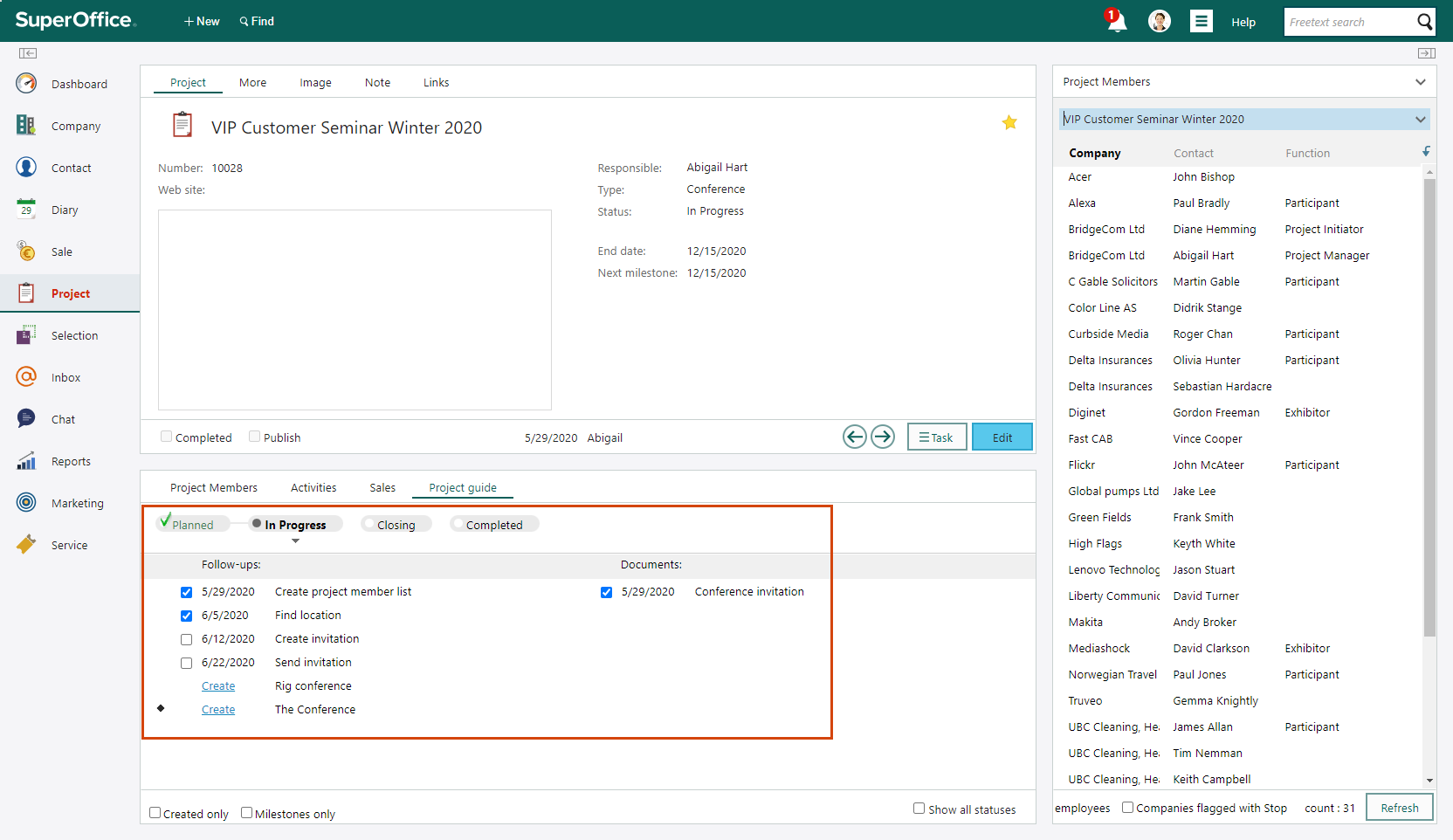 Use a project guide to easily control the progress of your project. You can change the project guide in the Workflow screen in Settings and maintenance
Design your own guide
In the Workflow section, you can design and implement your own workflows for your project and sales guides.
When you create your own guide, you can determine the statuses, as well as the activities and documents you wish to use per status.
The best way to define your own project or sales guides is to discuss and agree on your best practice statuses with your colleagues. Different sales and projects might need a different approach and perhaps a different guide. Just remember – you can create multiple guides for both sales and projects.
How-to guides:
Fant du denne informasjonen nyttig?