Merge or delete companies and contacts
Oppdatert på 5. nov 2021
To be able to be efficient in the work with customers and contacts, it is vital to have a "clutter free" environment. This means delete unused companies and contacts, and merge duplicated companies and contacts.
When you add new companies and contacts, make sure you double check that they are not added before. And off course, make sure you add correct information on companies and contacts.
Merge companies and contacts
If you find duplicated information, go on and merge them as soon as possible, to make sure that it's easier to find the correct company and contact. You can also move a contact if he/she are added on the wrong company card. This is to prevent duplicates in the future.
Note: This functionality requires user rights, so contact your adminstrator to get sufficient functional rights.
Follow the step-by-step guides below to learn how to merge and move companies and contacts:
Merge contacts
Move contact
Merge companies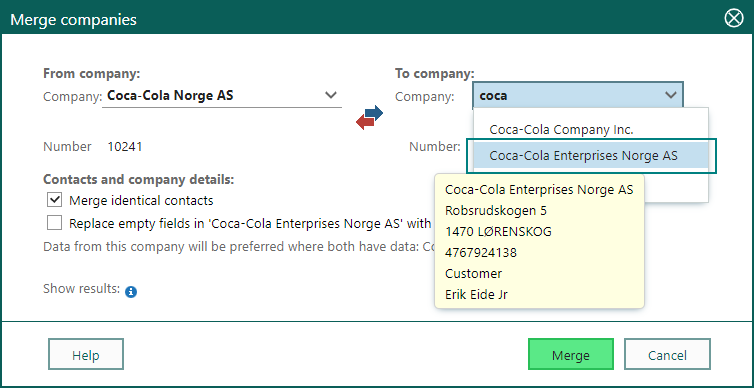 In the Merge companies dialog, make sure you select the correct company in the From field AND in the To field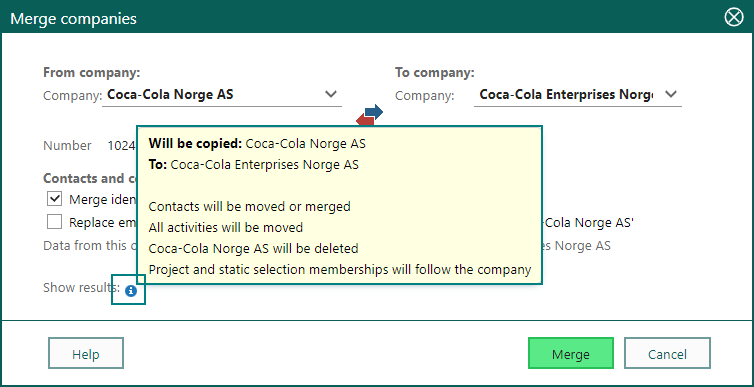 To get extra information before you merge the two companies, you click the Info-button on Show result
Delete company and contacts
When you have added wrong or duplicated information, it may be a good idea to delete a contact.
There are different ways you can delete a contact from SuperOffice CRM:
Delete a contact from the Contact screen.
Delete a contact from the Company screen.
Bulk delete contacts at once with selection.
Learn how to delete companies and contacts by following the steps below:
How to delete a company and associated data
Delete a contact from the Contact screen
Delete a contact from the Company screen
Bulk

delete

contacts and/or companies
When you have many contacts or companies you have to delete, the best way to mass delete them, is to add them into a new selection, and use the Delete tasks on the Task menu.
Delete records permanently


On the selection, click on the Task button and select one of the wanted Delete functions
Related:
Fant du denne informasjonen nyttig?