Visualise data with dashboards
Oppdatert på 15. nov 2022
Set up SuperOffice Dashboard and use pre-defined tiles. Dashboards are ideal for all users and managers alike. You can get an overview of your individual work or your team performance.
Customise your dashboard
You can pick from many pre-defined tiles to visualise and evaluate your work. You'll get a snapshot of activity levels, customer segments, product statistics, project details, and sales. By customising your dashboard tiles, you get to show the graphs and overviews that are most valuable for you personally.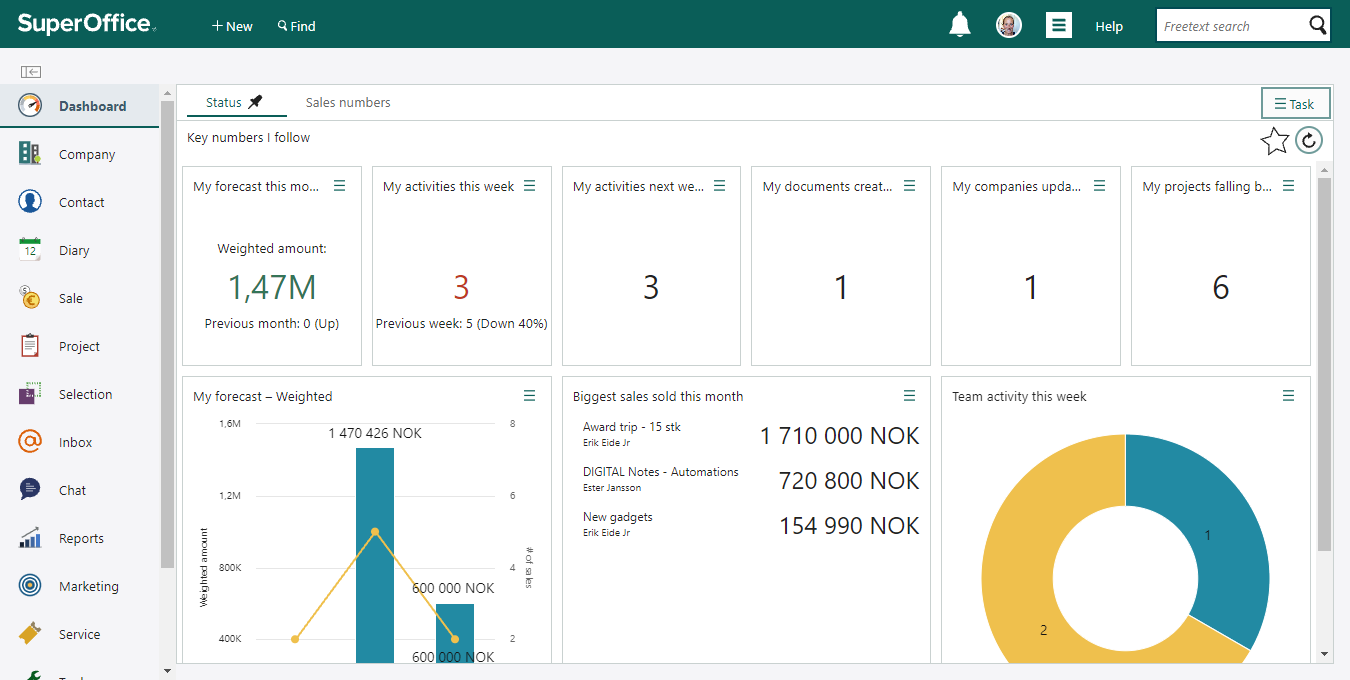 Customise your dashboard to make it more valuable for you
Create your own graph for the dashboard
If you can't find the right tile for you, you can create your own tiles based on your selections. You can visualise all dynamic selections in graphs to give you the information you need in a quick and easy-to-understand way. You can also create your own tiles from start with wanted criteria and the layout that show your data correctly.
Create additional tabs
By default, only one dashboard tab, called Status, is set up. It contains different tiles with pre-defined charts. You can edit this tab and/or add extra dashboard tabs, where you can present all the tiles and charts of your choice.
Note: Access rights and confidentiality apply to the tile data, so tiles will only display information you have access to.
Terminology | Dashboard
Dashboard: A dashboard is a way of displaying various types of visual data in one place. Usually, a dashboard is intended to convey different, but related information in an easy-to-digest form.
Reports: a list or selection shown in a tile
Tiles: Adjustable square that can visualise different data in your dashboard.

Charts type: A chart is a graphical representation for data visualisation (sometimes known as graphs).

Pie chart: A circular-shaped graph.
Colum chart: A column chart plots the variable value vertically.
Bar chart: A bar chart plots the variable value horizontally.
Line chart: A series of data points with a continuous line.
Area chart: A graph that combines a line chart and a bar chart.
Gauge chart: Also known as dial charts or speedometer charts, use needles to show information as a reading on a dial.
Column + Line (2 axes): A dual axis chart that combines a column and line chart.
Bar + Line (2 axes): A dual axis chart that combines a bar and line chart.

List: A list showing a defined selection.
Big numbers: Lets you emphasize an important aggregate metric or KPI (key performance indicator).
Web panel: Display an url/web page inside a tile.
Html code: Display html code inside a tile.

Dataset: Selection of data showing in the tile, like a dynamic selection with search criteria.
Layout: Change the settings to adjust how the data is displayed in a tile.
Dashboard tabs: Each tab contains a dashboard displaying different tiles with different data that can provide insight and serve as a decision-making guide.
How-to guides:
Fant du denne informasjonen nyttig?