Edit or create your own tiles
Oppdatert på 13. des 2021
If you don't find the tile you need among the set of pre-defined tiles in SuperOffice Dashboard, you can always create your own. In this how-to guide, you'll learn how to create a dashboard tile.
When you create your own dashboard, you can also choose whether you want to share it with others. Also, there is no limit on the number of graphics you can add. There is a lot of standard tiles to choose from in the library, but you can also create your own, either based on an existing tile or start with clean sheets.
Note: If you do not see the option to make a new tile or edit the layout of the tile, talk to your administrator to get the correct license.
Watch this video or the steps below to learn how to create your own dashboard tile (video length – 7:20):
Edit or create tile
Pre-defined standard tiles

In SuperOffice Dashboard you have many of pre-defined standard tiles to choose from, and charts that are linked to dynamic selections.

The tiles fall into eight different categories: Company, Contact, Follow-up, Sale, Project, Document, Product, and Request.

Choose Add tile/Edit layout from the Task menu and choose a pre-defined selection of tiles by navigating through the drop-down menu, and then drag and drop the tile in the grid view.


Select from View for type of tile you want, and from the list you drag and drop the wanted tile into your dashboard

Add tiles / Edit layout
Edit a tile
Use search criteria to set up the Dataset of the tile
The dataset tab
The tab for Dataset will show the criteria overview like you are used to in Find and Selection. The different criteria you select here will filter the wanted data for your tile.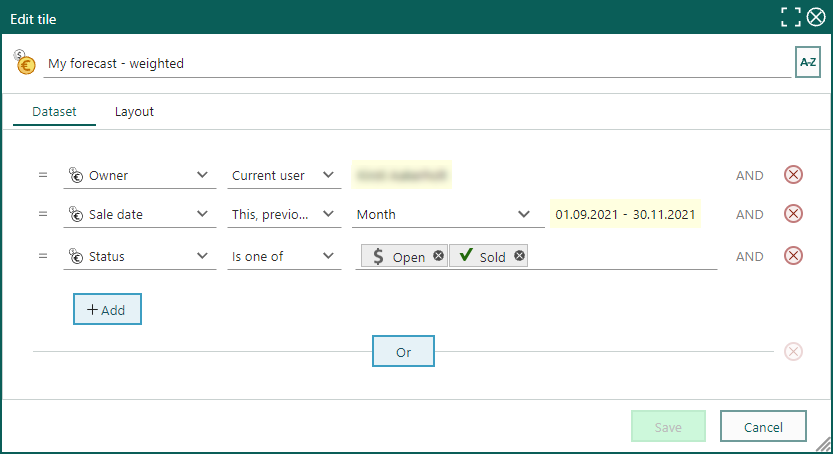 You have various edit options for your dashboard tiles, including the Source of the data
The layout tab
The tab for Layout gives you a lot of possibilities to finetune the visual look of the tile. If you are happy with the layout of a tile, you can also duplicate the tile to change the dataset behind without changing the layout.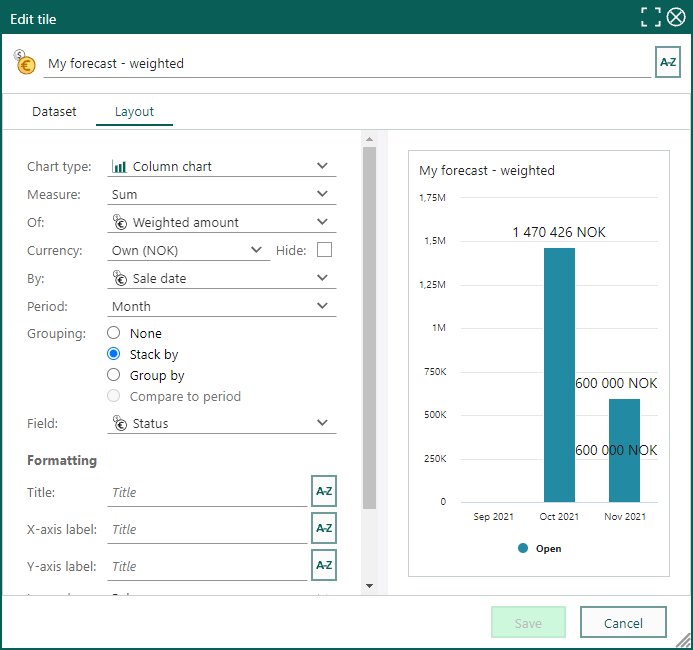 Choose the wanted chart type and the settings needed. The output of the tile is shown on the right side
Note: If the Layout tab and the fields are disabled, this means you do not have sufficient user rights. Please contact your administrator to get the right access.
Related:
Fant du denne informasjonen nyttig?