Create appointments
Oppdatert på 16. aug 2022
Creating appointments and scheduling all meetings and activities in your SuperOffice Diary help you to always have a complete overview of what's happening, build up solid communication history, and keep your colleagues informed. This how-to guide will help you create appointments and see the different types of activity options available.
Different ways to create appointments
There are numerous ways you can quickly and easily create a new appointment in SuperOffice Diary.
Create follow-ups from the Diary
Create appointments from +New button
Activities in SuperOffice CRM
To get an overview of the different activities in SuperOffice CRM:
Activities in SuperOffice CRM
Notifications
SuperOffice CRM can notify you before your meeting is about to start. When it's time to start your meeting, a notification will pop up. If it is a video meeting, you can start your video meeting by clicking the notification pop-up.
To use the notification pop-up, you must check the Alarm on the Details tab. Next, you can add the number of minutes ahead of your meeting you wish to be notified.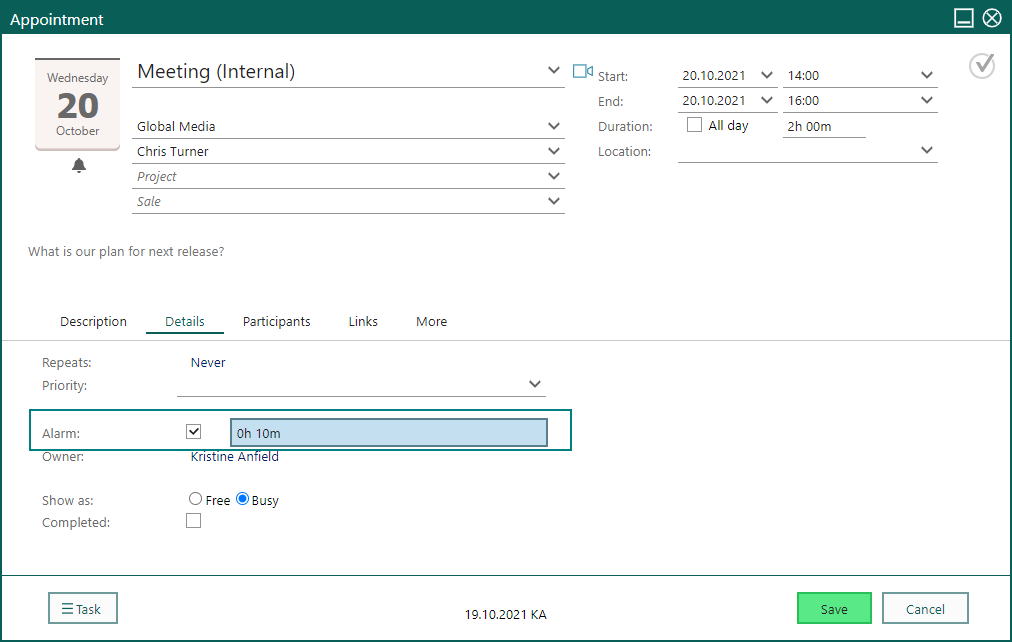 You can set an alarm so you get a notification before your meeting begins
Related:
Fant du denne informasjonen nyttig?