Create a video meeting from the SuperOffice diary
Oppdatert på 13. des 2021
The SuperOffice video meetings allow you to schedule and create video meetings directly from your diary. Let's take a look at how you can set up a video meeting.
Note: To create video meetings, you need to have a video conferencing provider configured in Settings and maintenance.
Create the video meeting URL
Create a new appointment and select the name of the company and the contact you plan to meet.
To create the video meeting URL, click the video meeting icon that is visible on the right-hand side of the follow-up type. SuperOffice CRM will create and add the video meeting URL for the video provider you use.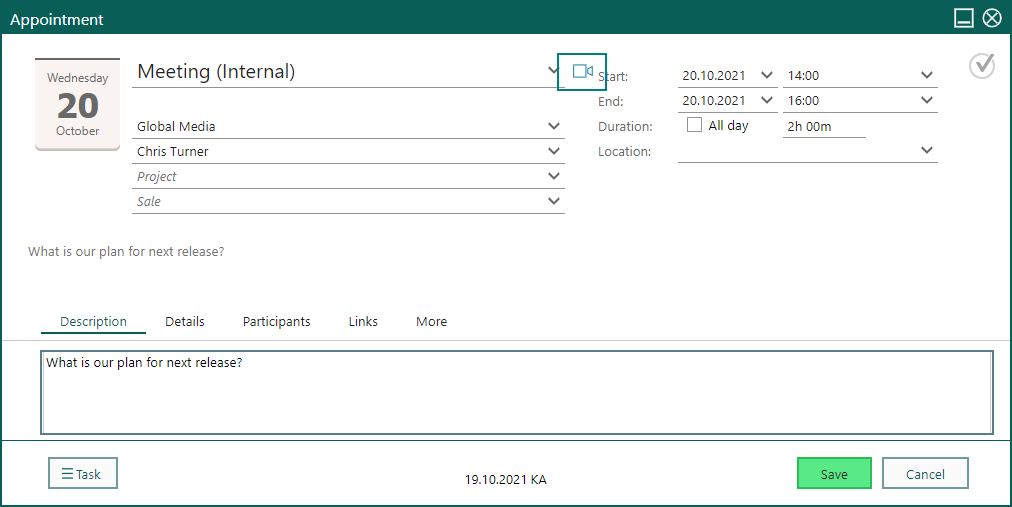 Click the video meeting icon to create the video meeting URL
Remeber that you can set up an alarm to be notified by a pop-up before the meeting starts.
Note: If you don't see the video meeting icon, this means that the video meeting feature isn't configured yet. Please contact your SuperOffice administrator, who would be able to set up the feature and video provider connection.
Invite participants
You can add participants when you create your video meeting.
Go to the Participants tab and click the + Add button to invite other people to this meeting.
When you've added all the people that you want to attend the meeting, click Save.
If you've set up the preferences to automatically send an email to participants, SuperOffice CRM will send out an email containing the video meeting URL.
A step-by-step guide
Watch this video to learn how to create a video meeting or follow the steps below (video length - 1:09):
Related:
Fant du denne informasjonen nyttig?