SharePoint document library integration
Oppdatert på 10. jun 2022
SuperOffice's SharePoint document library integration lets you create, archive and share documents and emails effortlessly and securely.
This integration allows you to store all documents and emails in SharePoint Online, where they can be accessed by everyone in the company, including even those who do not use SuperOffice CRM. The access to your SuperOffice document site in SharePoint can be controlled through domain groups (AAD = Azure active directory authentication).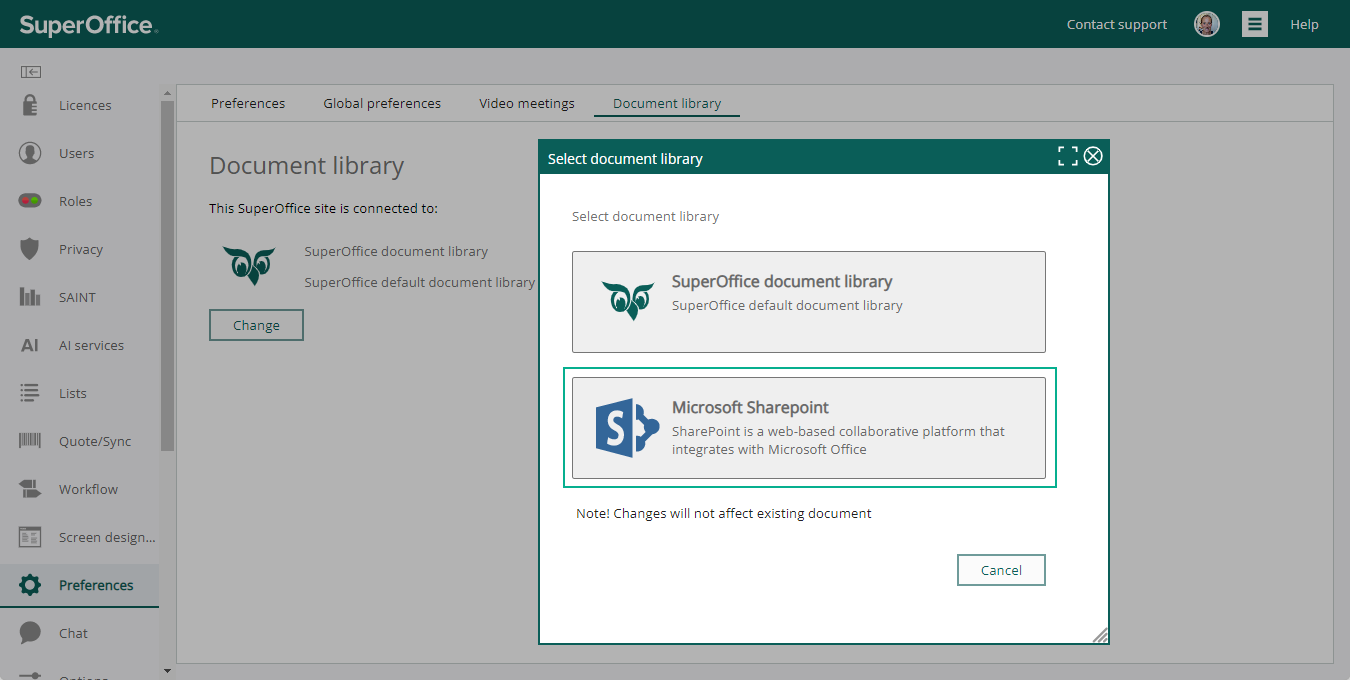 On Preferences in Settings and maintenance you find the Document library where you can set up the SharePoint integration
Requirements
There are some requirements when setting up SharePoint as your document library in SuperOffice. These are the requirements you need:
SuperOffice Online tenant
Microsoft 365 for business subscription

If you do not have a Microsoft 365 subscription, you have to sign up for one at Microsoft

A SharePoint document library (for storing documents)
If you want to enable group access on SharePoint documents based on "Visible for" settings in SuperOffice

Need access to 'Global Admin' rights in O365 (to be able to authenticate SuperOffice as a trusted app in your MS 365 solution)

Either during setup or
Send a link to someone who is
How to set up the SharePoint folders
The setup of the SharePoint site and document libraries are quite flexible, but we recommend to create a separate SharePoint site for your SuperOffice Documents, and two document libraries: one for documents and one for document templates.
In SharePoint, you can give permission on the site level or on the document library level:


Document libraries automatically inherit the permission from the site level.
Documents within the library inherit the permission from the library itself.

SharePoint user groups:

In SharePoint you can create and maintain SharePoint user groups, which gives direct access to the documents for the users (by default you have an owner group, a member group and a visitor group).
You cannot use SharePoint user groups to set permission on the document level with SuperOffice SharePoint Documents. The integration needs to use domain (AAD) groups. So, you must grant permissions to these groups.

SharePoint site owner group:

When you create a site in SharePoint, you automatically get an "owner group". Members of this owner group will have access to all documents within that site.
This access cannot be removed.
For that reason, you need to use an impersonal account to create your SharePoint site for SuperOffice Documents.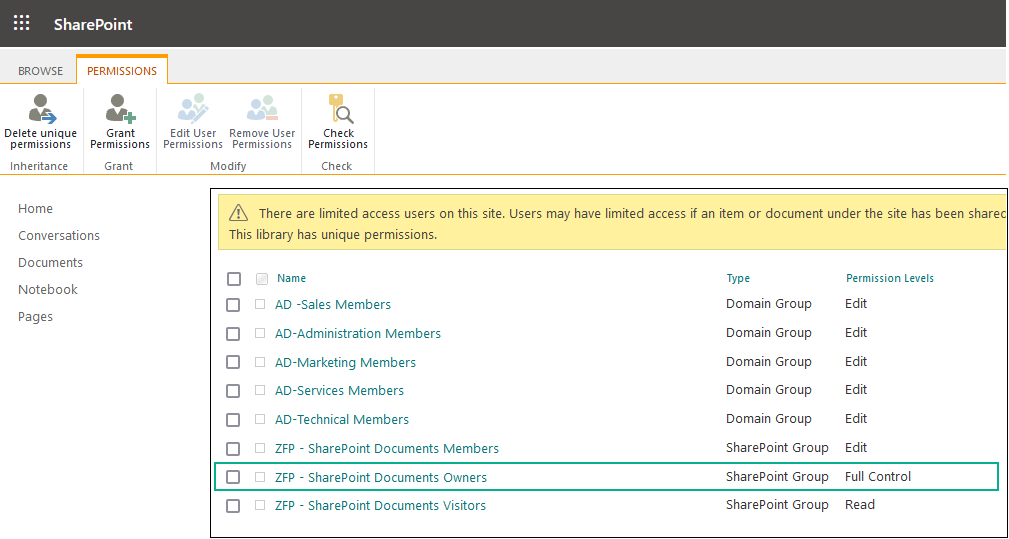 Grant the different permissions on the site level in SharePoint, remember that the Document owners need Full Control
How to configure SharePoint document library
Configure SharePoint document library
Note: If you do not have a Microsoft 365 subscription and aren't able to sign up for one, you can use the default SuperOffice document library, and each user have to install WebTools for Windows OS or Mac OS.
Related:
Fant du denne informasjonen nyttig?