Learn about GDPR and privacy in Marketing
Oppdatert på 6. okt 2022
In the post-GDPR world we live in, it's important for your business to get email marketing right. In this how-to guide you'll learn about the GDPR features in SuperOffice Marketing that help you ensure that your marketing efforts are GDPR-compliant.
SuperOffice Marketing will help you send your email campaigns to subscribers that have opted-in to receive them. After all, GDPR is all about communicating with people who actually want to hear from you.
What is GDPR?
The General Data Protection Regulation (GDPR) is the digital privacy regulation that was introduced on May 25, 2018. It standardises a wide range of different privacy legislations across the EU into one central set of regulations that protect private people in all EU states.
Put simply, it means that your company has to ask a private person for permission to register their details and ask for their consent to send them your marketing communications. Companies also need to document the ways they use to process personal data, as well as improve the way they communicate data breaches.
How does GDPR impact your work as a marketeer?
There are three key areas in which the GDPR affects the work of marketeers:
Data permission. Data permission is about how you manage email opt-ins – people who request to receive promotional material from you. Under the GDPR, people need to give you their consent, before you can send them anything or contact them.
Data access. The GDPR gives people more control over how their personal data is collected and used. This includes that they should have the ability to access or remove information. As a marketeer, it's your responsibility to make sure that your prospects and customers can easily access their data and remove consent if they want to.
Data focus. You should always be able to legally justify the way you process the personal data you collect. So, only collect the information you really need to do your job.
How SuperOffice CRM helps you tackle the GDPR
SuperOffice contains a number of features that will help you play within the rules of the GDPR. We will discuss each feature and explain how SuperOffice CRM helps you achieve the best possible results from your marketing communications.
Register a person's GDPR consent
As a company, you collect, store and handle people's personal data. Under the GDPR, you now need to have a lawful reason for why you want to store this information.
SuperOffice CRM has a feature called Consent management, that is designed to help you document when, how and why you want to register certain personal data in your CRM solution.
Every time a person is registered in your SuperOffice CRM database, the consent they gave to save their details is also registered. This allows you to manage and track exactly which consent you've received from which person, at all times.
You can find the link to a person's privacy page on their Contact card. Click where it says Legal basis: Legitimate interest.


At the bottom of the Contact card you can open a person's privacy page by clicking the Legal basis: Legitimate interest button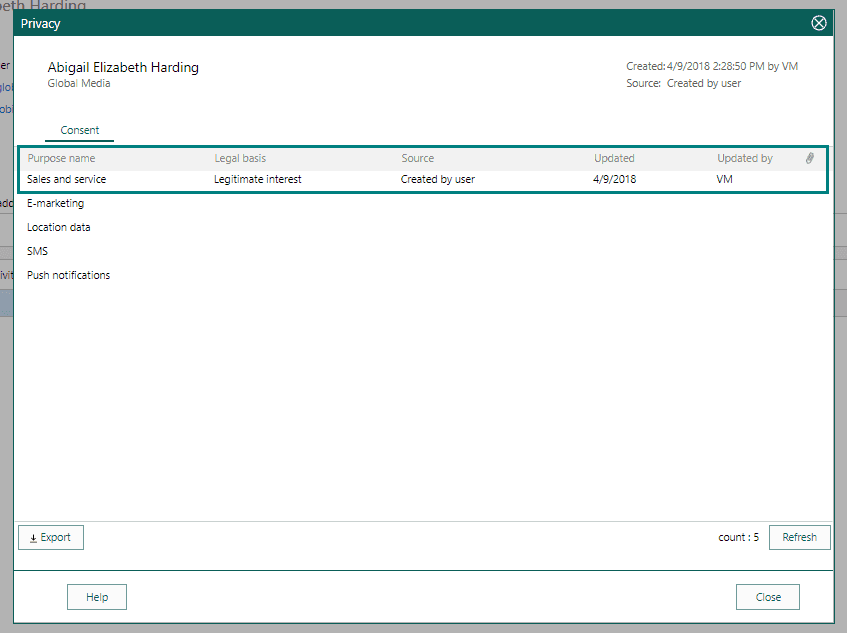 The Privacy page will show you all the consents you have registered for a contact
If you wish to change the consent requirements, you can do this in the Settings and Maintenance module.
Related:
Fant du denne informasjonen nyttig?