Create and publish FAQs for your Knowledge Base
Oppdatert på 24. mai 2022
Frequently Asked Questions (FAQs) are an important part of service request handling. Since many customer inquiries repeat over time, it's a good idea to create FAQs that contain answers to such recurring questions.
There are many advantages to having an FAQ library.
FAQs can be made available in your Customer Centre, where customers can search for answers themselves.
FAQs speed up the work of support agents, who can quickly add links to FAQ entries when replying to customer inquiries.
FAQs is a great way to send your customers precise and quality-assured answers. 
Navigate to the FAQ entry window
In SuperOffice Service, go to the navigator on the left-hand side and click the Knowledge Base button.
In the drop-down menu, choose FAQ.
Click the New entry button.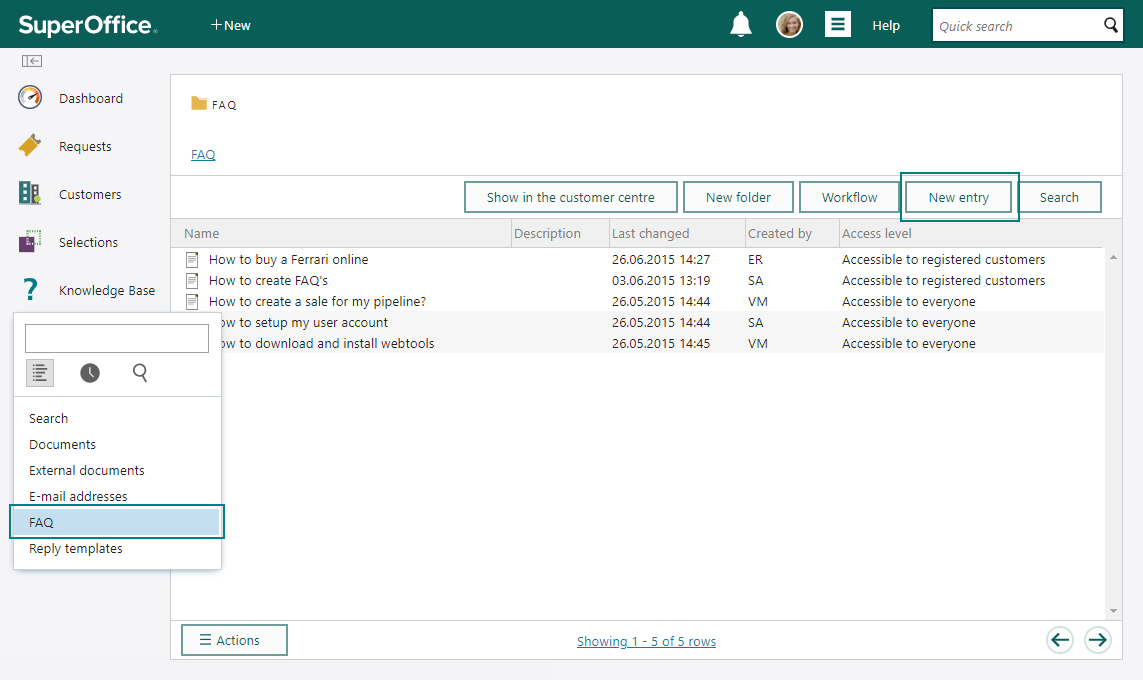 You'll find the FAQ screen in the Knowledge Base drop-down menu
How to create and publish FAQs
Watch this video and find out how to create and publish FAQs in the Customer Centre in SuperOffice Service or follow the step-by-step guide below (video length - 3:01):

The video is made in version 8, but is still very relevant for the current version of SuperOffice
Create FAQ entries
Publish FAQ entries
Note: If you don't see this feature, you need to add Knowledge base as functional right to create reply templates and FAQs.
Note: You need a license for Knowledge base, which is a feature you get with the license for Service premium or the Customer Engagement platform.
Related:
Fant du denne informasjonen nyttig?