Work with dynamic and static selections
Updated on 1 Apr 2022
You start off with a set of criteria from the Find screen by using a typical search or adding your own criteria. From there you can save the result as a dynamic or static selection. The difference between the two are a selection that keeps on updating the number of members (dynamic) or a selection that have the members frozen with a snapshot of today's set of members (static). Learn more and how you use the different types of selection.
When you save your search to a selection, you have the option to save it as:
Dynamic selection
Static selection
Add to existing static selection
Dynamic selections
Static selections
Add and remove selection members
Work with static selection gives you the option to manually add an delete selections members, either one by one or through a search.
Add members to static selections
Remove members from static selections
Work with tasks on selections
Selection, either dynamic or static, is a good starting point to solve some of your work load. You can use the selections in different ways like mailing recipients, sidepanel view and creating charts used in Dashboards. But you can also perform a lot of different tasks when working with selections, categorised by Mailing/Activities, Manage, Print/Export and Delete.
Depending on the archive you see, either Company/Contact or the other different types, you have different options in the Task menu. On a selection of contacts you can Generate follow-ups, on a project selection you can use the Bulk update to set the project as completed, or Export to Excel any archive you want.
Perform tasks using selections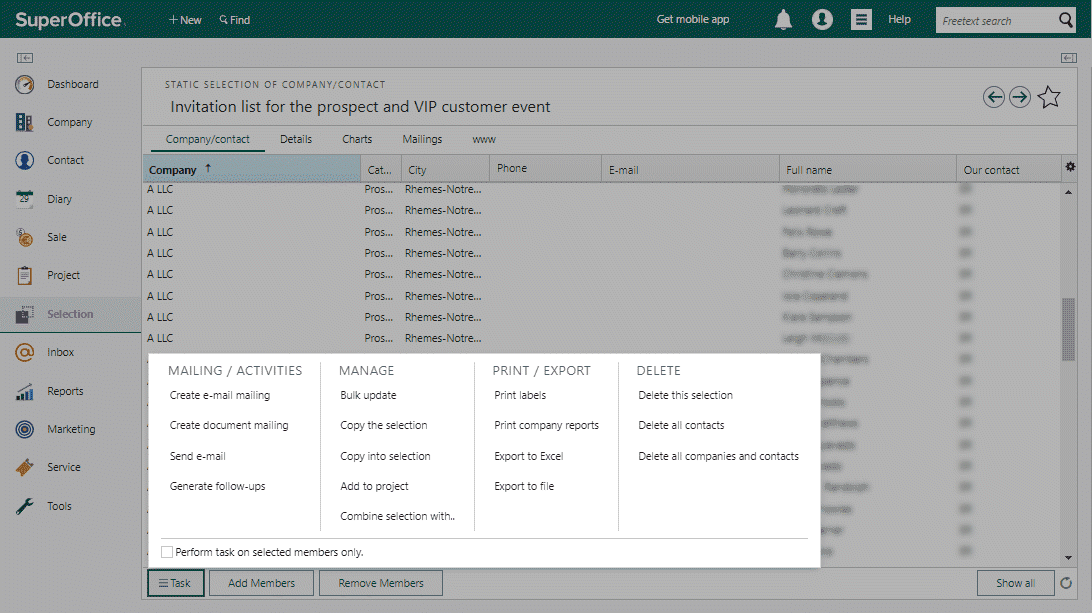 You can perform many different tasks when working with selections
Related:
Did you find this information useful?