Read on to find out how to pull together hotter leads and motivate your sales reps to hit their targets through gamification and measuring of the metrics that matter the most to your business.
Leadexplorer
Did you know that today over 90% of B2B sales start online and over 95% of traffic that comes to your website leaves without you knowing who they are?
With the amount of effort and resources that we pour into building websites with great content – or dressing up our shop window, so to speak – that's equivalent to watching customers come into our store but not speaking to them. Put another way, it's like leaving money on the table.
Leadexplorer for SuperOffice will help you uncover exactly who's looking at your site, as well as provide you with rich company profile data and behavioral insights, allowing you to reach out to your website visitors in the most effective way.
Accessible directly from your SuperOffice CRM, Leadexplorer will give you a list of all the companies that are visiting your site, enriched with information such as from what location, device, and what pages they looked at and for how long. All this is translated and converted into a score that will help you understand how interested a prospect is in your brand or product – and ultimately how hot (or not) a lead they are for your sales teams.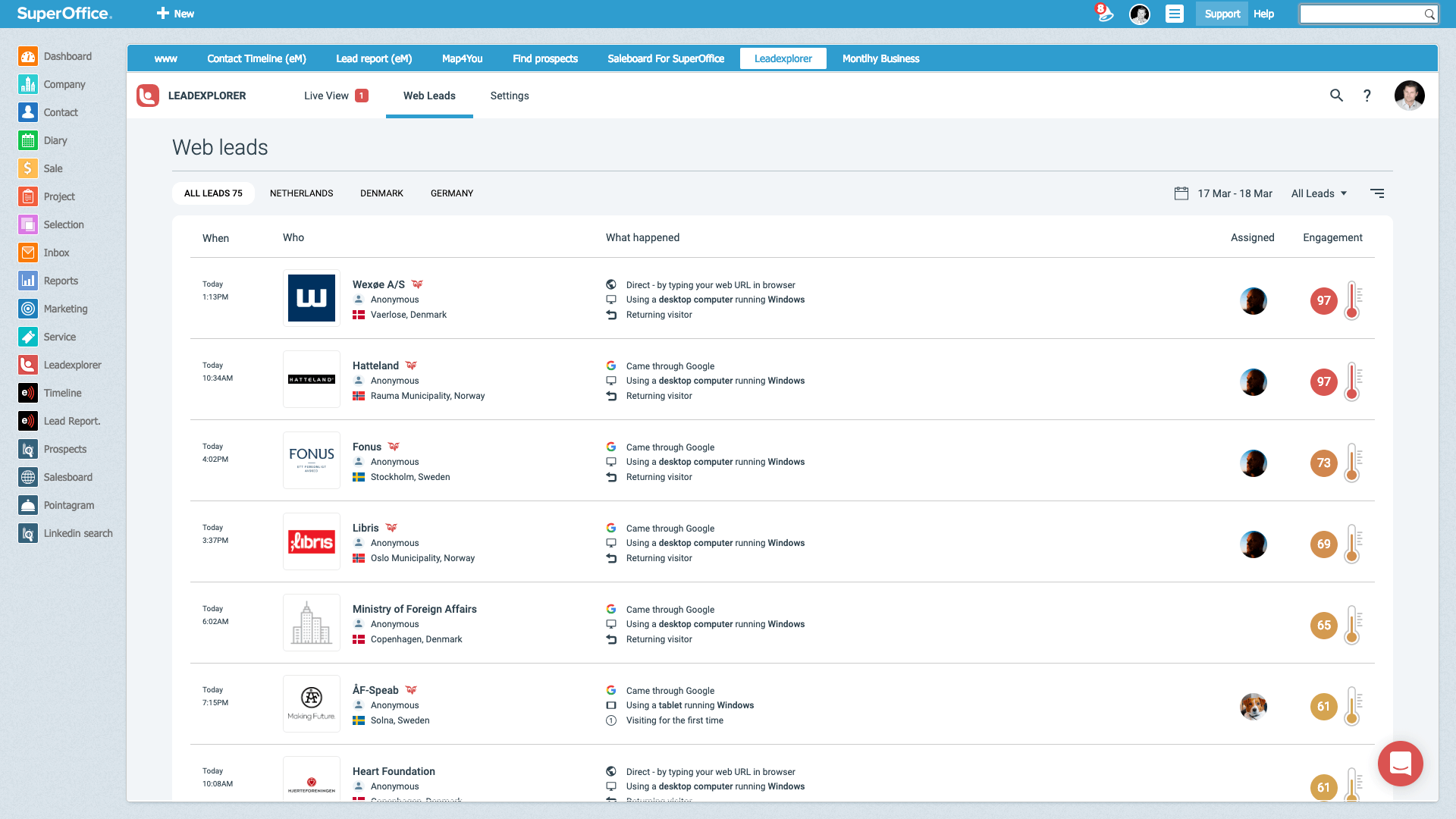 If the company already exists in SuperOffice CRM, Leadexplorer can pull that information and display it together with other information on the company dashboard, saving you time and effort on putting it all together.
Moreover, you can see who is assigned to the account, as well as all open and closed sales opportunities. And if the company doesn't exist, you can create it in SuperOffice CRM with just one click.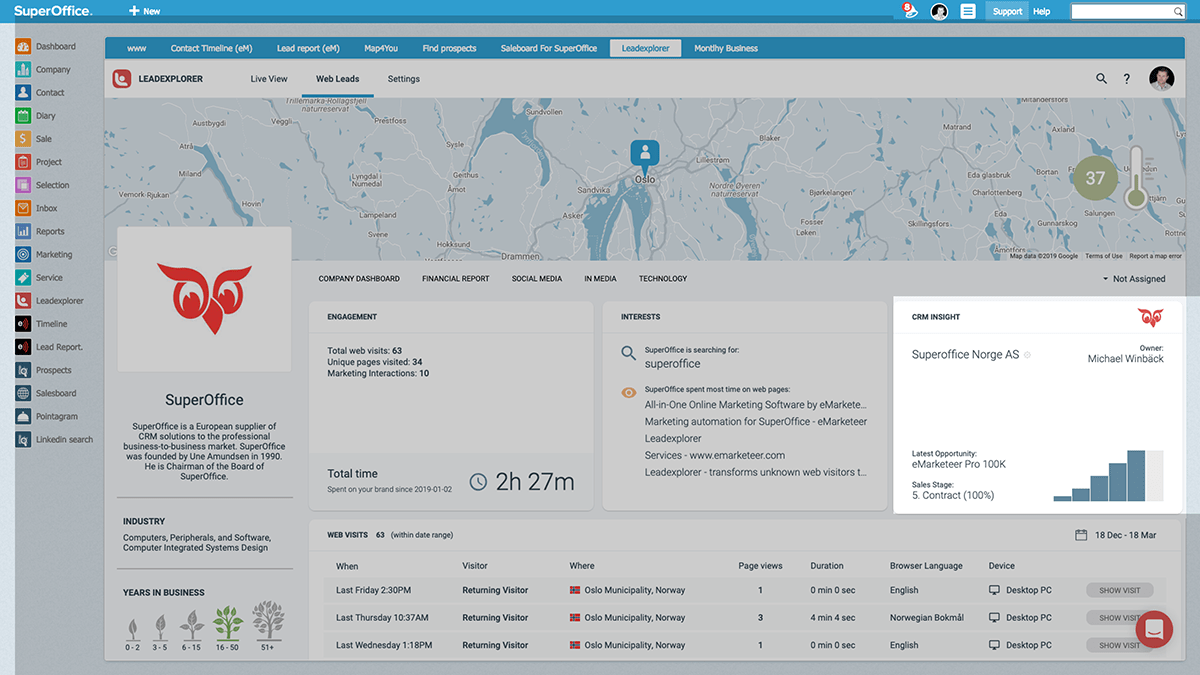 So, let Leadexplorer uncover the goldmine of opportunities that lay waiting in your website visitor data, and transform unknown website visitors into real sales prospects.
SalesScreen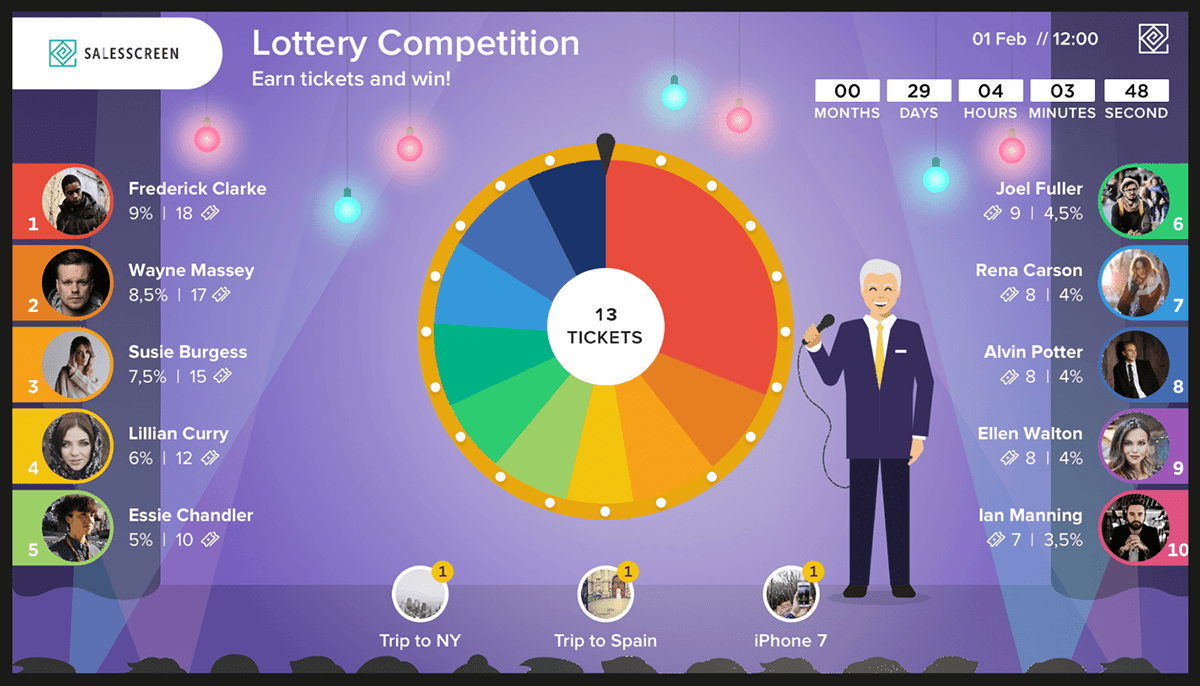 Every sales manager wants their team to be motivated to reach their goals and beyond. But keeping a sales team driven is a tough job. Every sales rep is different, so keeping everyone engaged and inspired 100% of the time is a challenge.
But the good news is that there are ways to increase your teams' productivity and motivation – through communication, visibility, engagement and incentives. Using gamification, the new SalesScreen Integration app for SuperOffice combines all these things into a cool new sales performance management tool.
SalesScreen lets you quickly and easily create individual and team sales competitions which are driven by real-time data from your SuperOffice CRM Online. No matter what your goals are, define your key objectives, track progress, and reward your star performers.
Keep your teams focused with displays of key metrics and broadcasts of new milestones reached, as they happen, on TV screens across your offices, as well as on mobile apps, and build your entire organization's culture and spirit at the same time.
Start playing with SalesScreen
Visma Sign
When you've worked hard on a deal, the last thing you want is to lose momentum because you can't find a date that works for signing and sealing the deal. With Visma Sign for SuperOffice CRM, you can eliminate all that by integrating the digital signature service.
Upload and send a document directly from SuperOffice CRM and invite people to sign via email and or SMS. Visma Sign will collect the signature(s), as well as check and authenticate the signer's identity with either online banking codes or MobileIDs.
Once the document is signed, each party will automatically receive a copy while yours will be saved directly in SuperOffice CRM, helping you to not only close deals faster, but also work more efficiently.
Vainu
Collecting relevant data and insights on sales prospects is a must for any good leads generating method. In the past, getting hold of the right data was difficult and time-consuming, even when it was openly available.
Today, in the age of digitalization, the opposite is true – there is an abundance of data, but managing and making sense of it all is the challenge.
That's where Vainu for SuperOffice CRM can help. Vainu is a database loaded with information on over 100 million companies. Vainu collects and organizes open data and then transforms it into insightful information that will help your sales team identify more valuable prospects quicker and easier.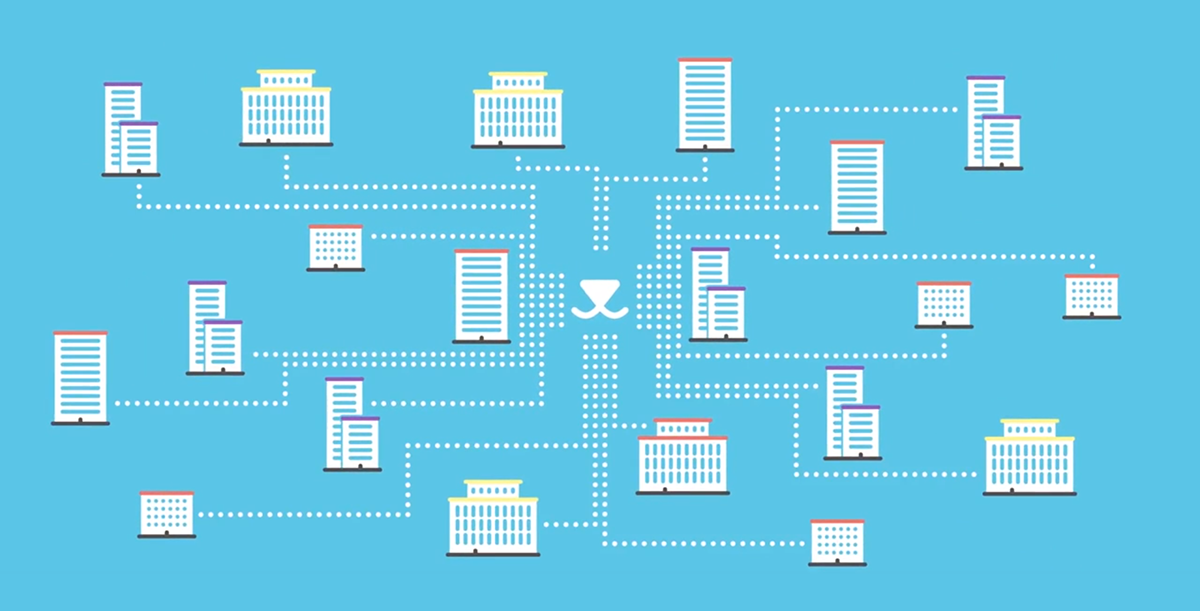 Vainu's database not only extends your SuperOffice CRM data, but also allows you to push and pull dynamic information to and from your SuperOffice CRM. You can build knowledge on the companies already in your CRM or identify new high growth targets from Vainu's data.
With Vainu for SuperOffice, you can set and define hundreds of filters, create companies or groups of companies to follow, get important notifications about news or events, and basically know everything there is to know about your prospects.
In a nutshell, you can gather all the prospecting information you need in one interface – to ensure you build better leads, more efficiently target your sales efforts, and get in touch with the right prospect at the right time.
Build better leads with Vainu for SuperOffice
The App Store – only a click away
If you want to keep an eye on all new apps listed in the App Store, check our "New or updated" category.
And did you know that you can enter the App Store from the Settings and maintenance view? This link will take you straight to the App Store, where you'll be able to find all the latest apps.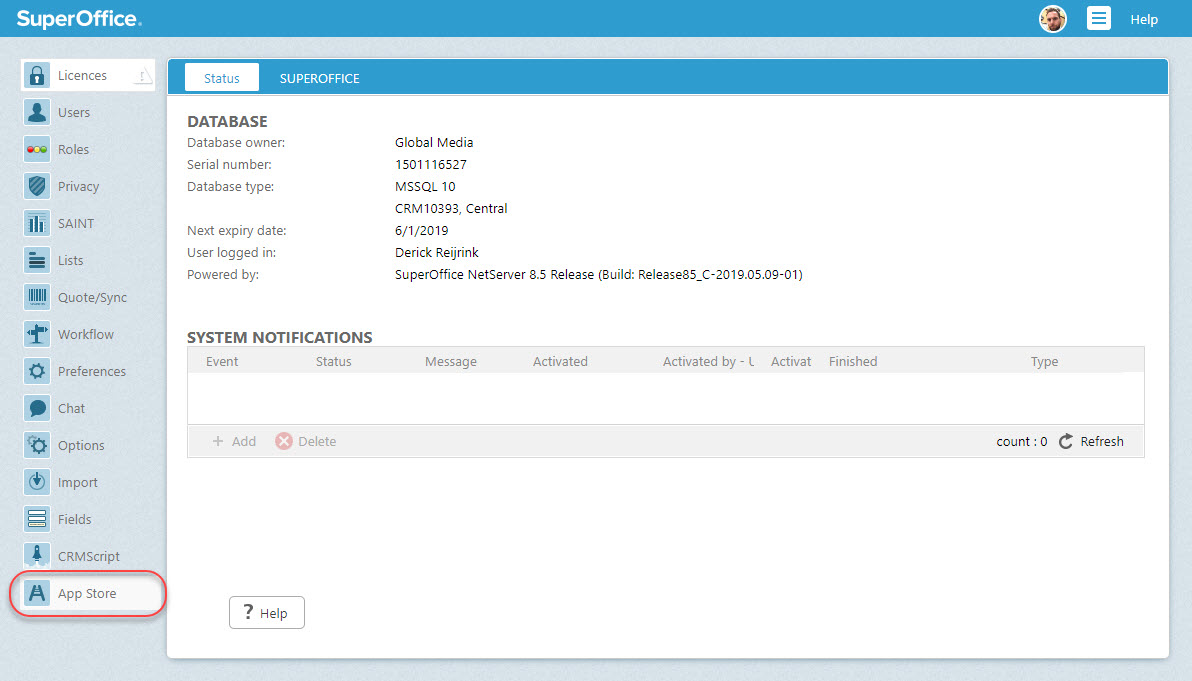 That's all for now.
Keep coming back to the App Store and discover useful expansions or integrations. And if you can't find what you are looking for, send us your wish (email) and we'll see what we can do.