Did you know that your smartphone, with all its apps, is now more powerful than your PC?
That's why people use them so much both in their private and business life.
When it comes to business, gone are the days when people needed to be physically present next to their computer to use software solutions, enter and check data, and act.
Nowadays, we do business on the go or from home. And nothing should restrict our access to key productivity tools, such as a CRM solution.
No surprise, our Mobile CRM app is very popular among our customers.
This is how Mobile CRM app can make your work more efficient:
It helps you give structure to your busy schedule.
It reminds you of important tasks and follow-ups.
It helps you quickly find the customer information you're looking for.
It tells you who's calling you.
It gives you access to CRM information at any time and from anywhere (even when you have restricted access to wi-fi).
At SuperOffice, we constantly improve our Mobile CRM app, by adding new features (almost) every month.
So, if you haven't used the app in a while, there's a good chance you missed some of the new features that we've added.
And if you are planning to download the app, you will be pleasantly surprised how many things you can now do with the help of Mobile CRM.
In this article, we'd like to present to you the 7 most popular features we've added to the Mobile CRM app in the last 12 months.
7 features recently introduced in Mobile CRM
Here's our top 7 of the most popular new features.
1. Caller ID
With Caller ID you will immediately know who's calling you. When you know which company the caller works for, you can respond properly. This is a small, but important feature that will help you improve the customer experience that you give your customers.
If you need some help with the settings on your phone, check our FAQ How do I start using Caller ID for Mobile CRM?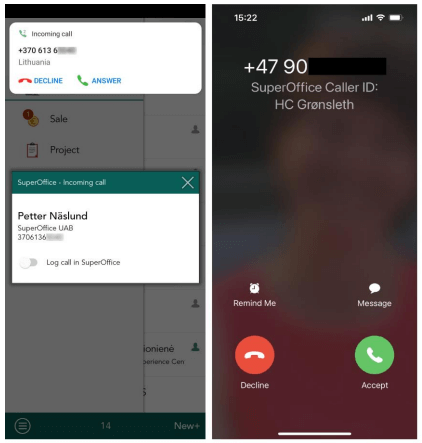 2. Request management
Improving customer satisfaction is at the top of almost every company's to-do list. Being able to respond to customer requests at any time and from anywhere, just using your smartphone will help you lower response times. And customers always value fast response times. 😊

Mobile CRM is now equipped with several features that improve customer service and reduce the response time when handling requests on your phone:
When you edit a request message on your phone, you get a notification that asks you to confirm the change so that you don't

accidentally

send before you are ready.

If you're a request owner, you get the "Automatically assign" option.
FAQs and Reply templates can be inserted into the request.
Request notifications will warn you when the customer has responded, or changes have been made to your request.
You can add several images at the same time into a request.
Note: Request management for Mobile CRM is also available for you if you have SuperOffice CRM installed on your own premises.
3. SuperOffice 10 Dashboards
To meet your key performance metrics, you need to regularly check your current status.
The best way to do it is via Dashboards.
You can now view all your dashboards, including the new dashboards that are available in SuperOffice 10, straight on your phone. This way you'll stay up to date with all the KPIs that are important for your daily work.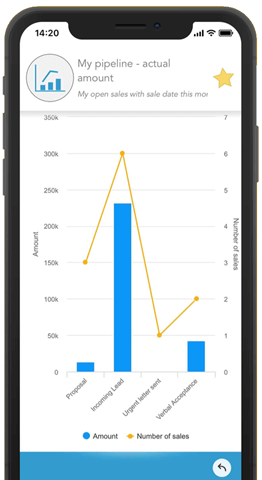 No matter where you are, instant access to status reports to see how you or your team is doing means you can easily control what's happening. And it also feels just great to see how a report changes in front of your eyes, after you've updated a sale, an activity or any other type of criterion that you measure. 😊
4. Join video meetings
When you're on the go or working remotely, you still need to attend meetings. When you're in the car (standing still, of course) or on a train, you can now join video meetings right from your phone.
Note: Video meetings is a feature available for those using SuperOffice CRM in the cloud.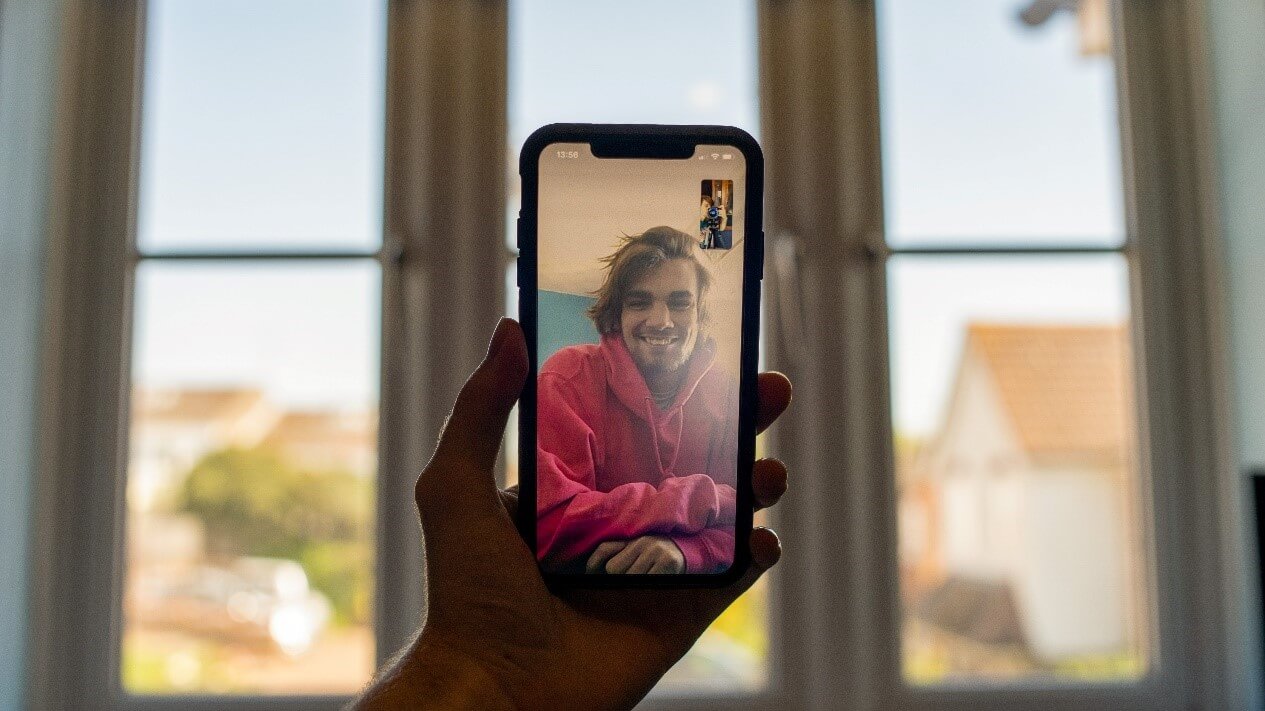 5. The stop sign
For many years, a favorite feature for SuperOffice CRM users has been the stop sign 🛑 that appears on certain screens.
It is a warning that immediately grabs your attention, and it can be used to alert the user about many things. Now you can see the stop sign in your Mobile CRM app, too!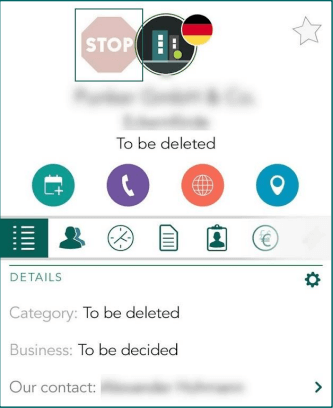 When you see the stop sign on a Company card in your Mobile CRM, you'll know that you must stop and check out what's going on.
For example, this customer might have payment issues, might be in the process of cancelling, or there's another issue you should be aware of.
Whatever it is, the stop sign now available in the Mobile CRM app will give you a warning instantly, so you can act accordingly!
6. New user interface languages
At the beginning of 2022, we added 5 additional languages to support our user interface on the Mobile CRM app ensuring that more colleagues can access the app in the language they prefer to use.
Hân hạnh! (This is Vietnamese for "you're welcome").
The five new languages are:
Chinese (simplified)
Vietnamese
Korean
Portuguese (Brazilian)
German (Switzerland) with correct number and date formats


7. CRMScript and triggers
Companies invest in workflow automation for different reasons: to save time, to increase productivity, to improve data quality, to provide consistent customer experience – these are just a few examples. 😊
We know that every company works differently. That's why you can customize what to automate and when it should happen. And there are many tools, apps and other capabilities that help you automate and customize your solution the way you need.
Some of these capabilities are made available when you subscribe to the add-on Development Tools, such as CRMScript and triggers:
CRMScript is an embedded scripting language that you can use to create different automations and workflows to fit the way your business works.
Triggers are based on the CRMScript and are pre-defined triggers and events that allow you to set up "if this, then that" automations in SuperOffice CRM. For example, you may want to get an automatic update of information or to create a new activity automatically when something specific occurs, like a sale set as "sold" or an activity set as "completed".
Triggers can execute a CRMScript or a macro which are maintained and created in the main SuperOffice CRM client. When we introduced Requests into Mobile CRM, we already supported triggers in these categories:
Service: new request
Service: request changed
This has now been expanded to include all CRM triggers available in SuperOffice CRM (before and after Save event triggers) for the entities available in Mobile CRM, such as: Diary, Company/Contact, Sale, Project.
With all these trigger events now supported in Mobile CRM you can be sure that whatever your script is meant to do, e.g., validate data, automate tasks or workflows, it will do it. It doesn't matter if you activate a script from your Mobile CRM app or by working in SuperOffice CRM on your computer. If the trigger is activated, the script will run!
In other words, the expanded trigger feature in Mobile CRM makes this capability even more flexible than before.

If you need help setting up your company's own automations, just get in touch with your contact at SuperOffice.
How to download the app
If you want to get started with any of these features, but haven't downloaded the Mobile CRM app yet, you can go to SuperOffice Mobile CRM in the SuperOffice App Store and find links to Apple App Store and Google Play to install it.
Or just go directly either and search for SuperOffice Mobile CRM.
You can log in using your SuperOffice CRM credentials.
To help you get started with the app we've created this quick start guide for Mobile CRM.
And if you'd like some more information, there's plenty of resources available on our user guide section for Mobile CRM in the Community.
Get early access to new features and help us improve Mobile CRM
These were only 7 of many small and large improvements that our team regularly adds to Mobile CRM app.
If you want to try out the new functionality and at the same time help us improve our app, you can do so by joining our Beta program that runs for a week prior to every release.
How to sign up for the SuperOffice Mobile CRM beta-program