Data gathering is important, but it's what you do with the data that matters most.
To get value out of the information you store in your CRM system it is critical to have simple ways in which you can pull data out and get the overviews and insights that count.
In our G9 roadmap we outlined our ambition to improve existing features, as well as introduce new ones. One of the first improvements we have been working on is making it easier to get to the information in your CRM system.
To simplify how you search, find, review, and act on data inside your SuperOffice CRM, we have completely redesigned the data search process. On this page you will get an overview of all the new changes.
New Find button: an improved way to search and find CRM data
Searching and finding information in your CRM is now a lot more straight forward with one button and one process for all types of searches.
Instead of having two different ways to look for information, depending on whether you are looking for one piece of data (previously via Find) or a list or series of data (previously via Selection), you now use the same method for both.
No matter what you are looking for – service tickets, products, sales, companies, contacts, activities, or any other data in SuperOffice CRM – you can now find everything in one place.
Start all your searches with the new Find button: whether it is a single item or a selection you're looking for. It will guide you through the different parameters that are available and give you results in fewer clicks.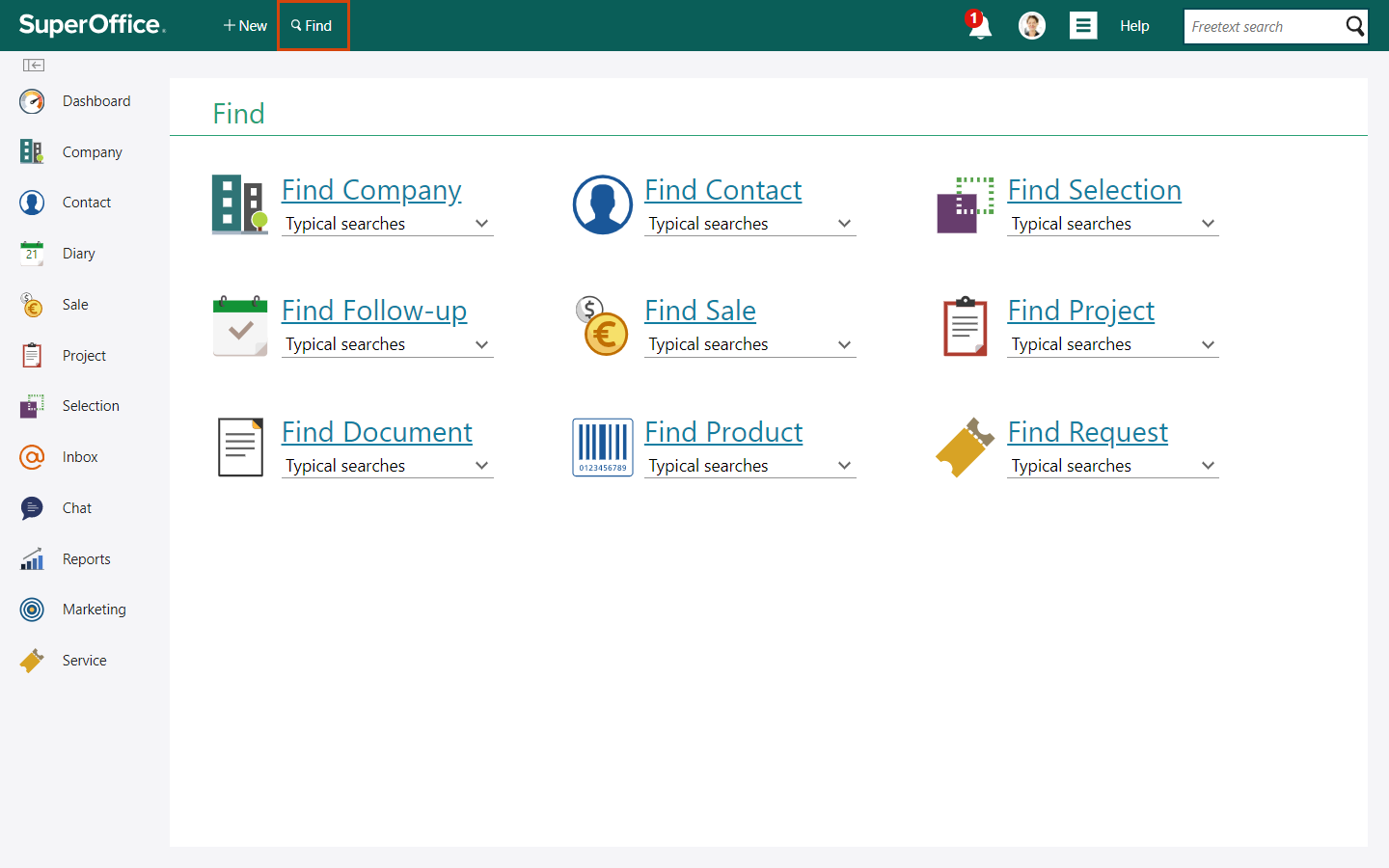 Start all your searches the same way with the new Find button
Learn how to search for information (English only)
Note: The existing selections will not be affected. All saved selections from the previous version are available in the new version! You can find them via the Selection navigator like before or by using find "Selections" and add criteria to search for them.
Predefined searches to help you find information faster
There are also a number of predefined searches, based on the most common search criteria.
You can use these to instantly get the results you are looking for or use them as a starting point for similar searches.
For example, sales agents can find information on "My open sales" or "My big opportunities this month" with just a few clicks.
Or if you're a marketer, find "Newsletter subscribers in my country" or "Prospects that have opted out of mailings" quickly and easily.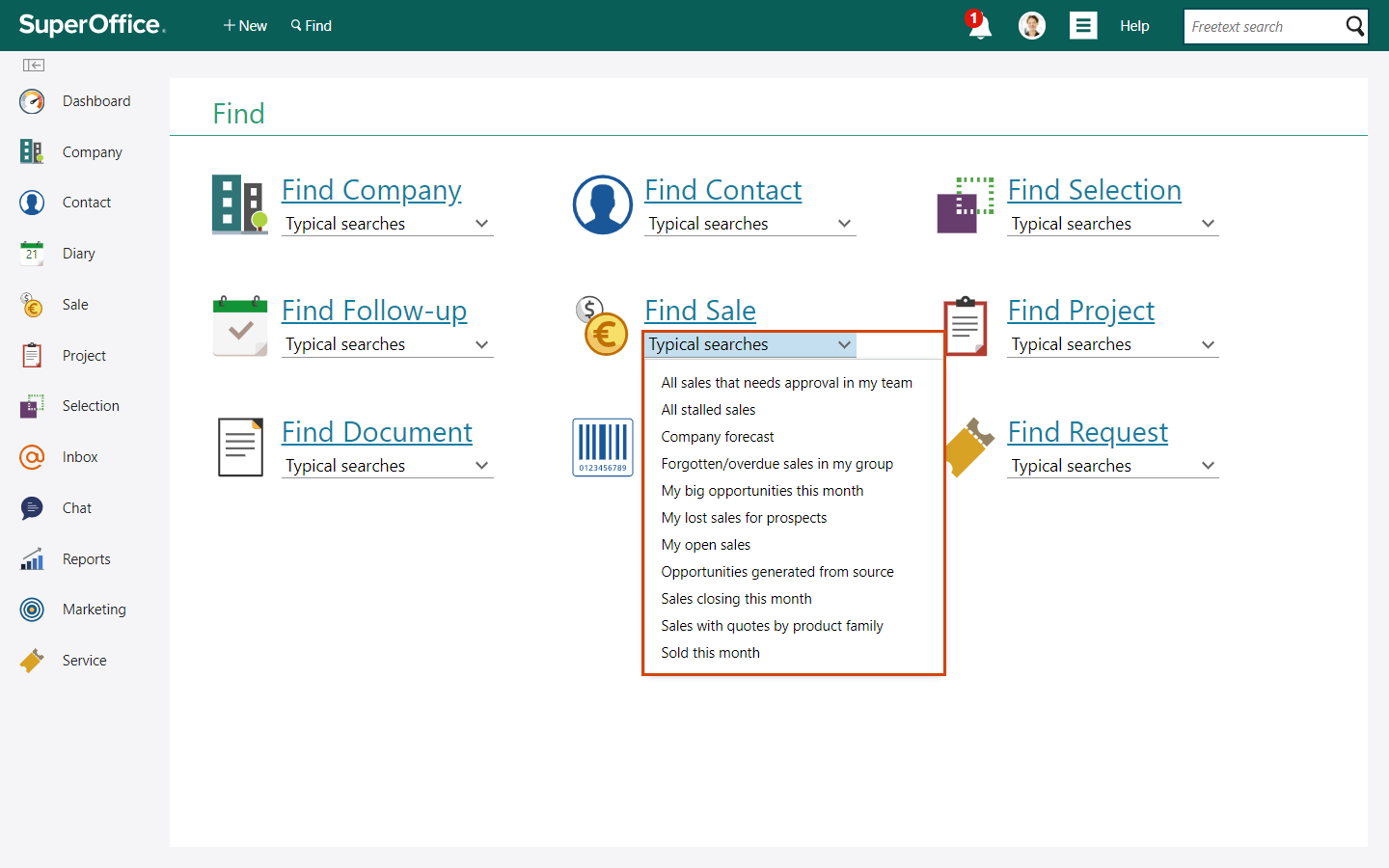 Use a predefined selection to get results instantly or as a starting point for a similar search
Learn how to use a typical search (English only)
New "OR" function for more complex searches
The more advanced users will be happy to know that we have now made it easier to do more complex searches.
You can search for more criteria in a single search with the new "OR" function.
For example, if you have an upcoming event in certain cities and you want to tell customers in those cities about it, you can now do one search to create a list of all of them. You no longer have to do a search for each city and then combine the results. 
Or, if you want a list of all customers who have bought Product A OR Product B, you can find them in one simple search.
When you create a selection with your first set of criteria, you can now select "OR" and add another set of criteria. You can add as many criteria sets as you need.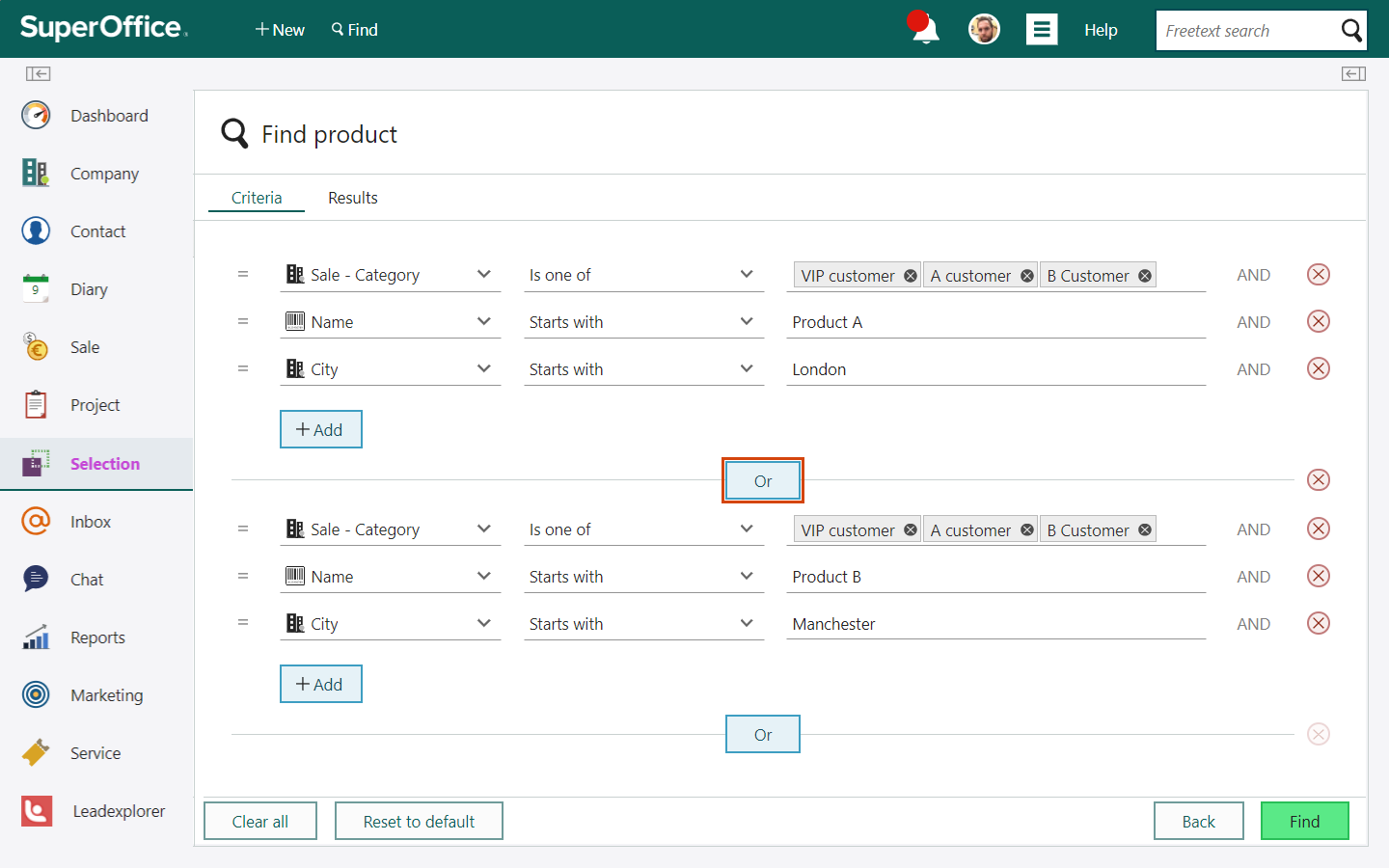 Broaden your search with the new "OR" function
Learn how to broaden your search with the new "OR" function (English only)
More room and flexibility to work with your results
When you search for information it is important to then have the adequate space to work with the results that you pull.
For example, if you search for customers in a certain category, and the list is long, you want to be able to see as much of the list as possible. Therefore, we have now dedicated the whole length of the screen to allow you to comfortably view your results, making longer lists easier to review and manage.
You can also decide how wide or thin you want the results panel to be by simply dragging the side. And you can organize, filter, and sort the data exactly how you want it.
The preview panel will now also allow you to drill deeper into your results without having to navigate away. Select any data line in your results to see more information on that entry.
Going back to our customer list example, you can click on any company in your results and the preview panel will show you contact information, as well as all the latest activities, sales and requests associated with it. See key information and get a better overview without having to leave your results screen.
If you want to tweak or extend your search you can also do this without having to start from scratch or losing the results you already have.
Say as before, you want to see all customers in a certain category, but then want to narrow down your list to those that are in a specific city. You can now easily go back and forth between your search criteria and your results, to edit your search parameters via a tab at the top of the screen.
Add or remove criteria as many times as you need and go deeper into your data with less effort.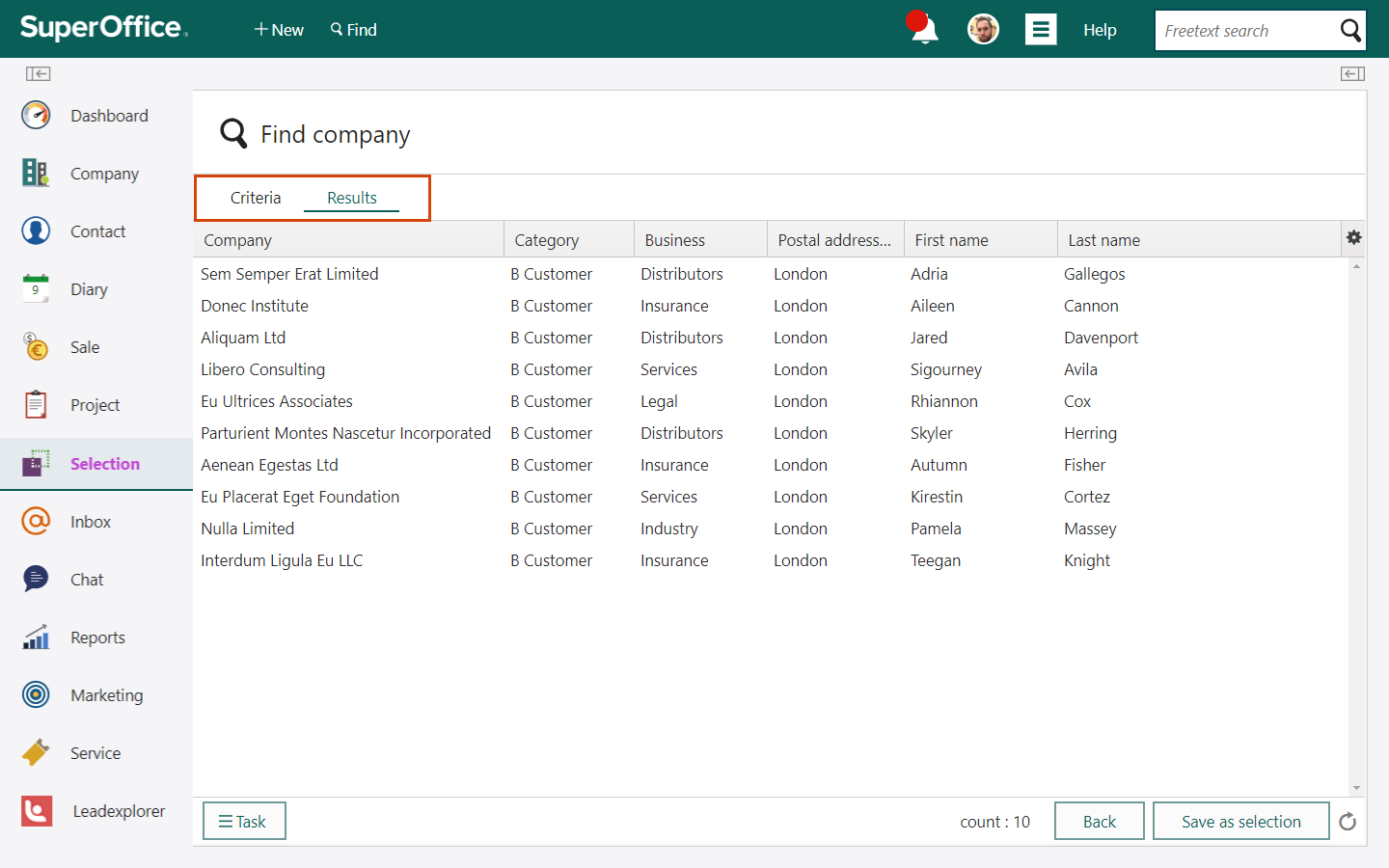 The new Criteria and Results tab make it easy to edit your searches and results
More intuitive display of follow-up tasks to help you act on your data
After you've nailed down the data you're looking for, it's time to take action. Remember? It's what you do with the data that matters most!
At the end of every search there are tasks that you can assign to your results. These have now been categorized and sorted to make it more intuitive to know what to do next.
There are four main categories: Mailing/Activities (this option is only available in Company or Contact selections), Manage, Print/Export, and Delete.
Say you have just run a search of all your VIP customers in London, who have bought your premium level service, and you want to notify them of a special event you are holding in their city. You can now find the option to send an SMS, email, or a mailing easily in the new task menu.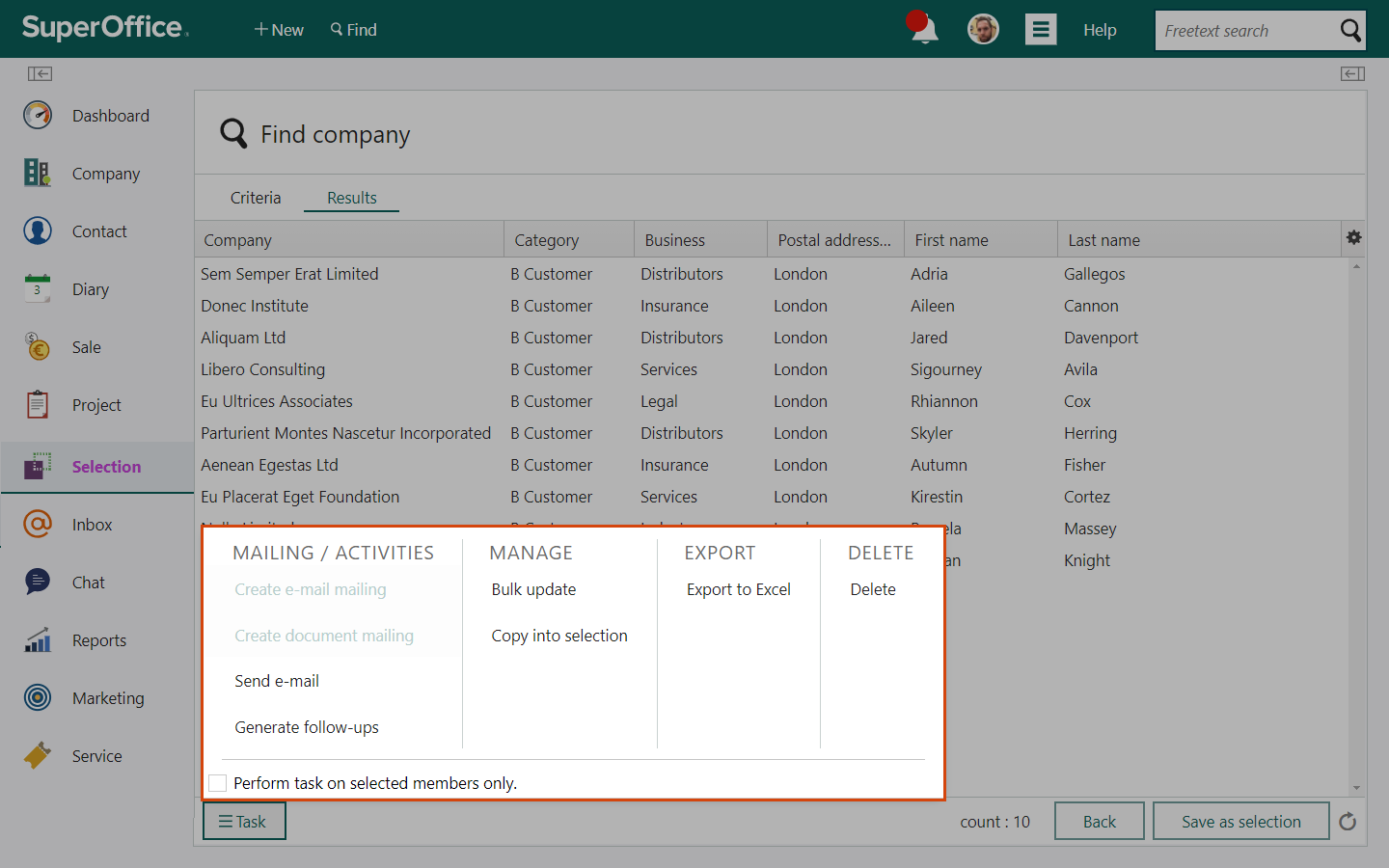 More intuitive task options when you complete your search
Learn how to visualize selections with charts and dashboards (English only)
Only save the searches that matter
At the end of your search you will now be presented with the option to save it.
Previously, all selections were saved by default – making it harder to find an important search again later, as well as using up valuable storage space.
Now, a selection will only be saved if you choose to save it, helping you to keep things tidy and orderly.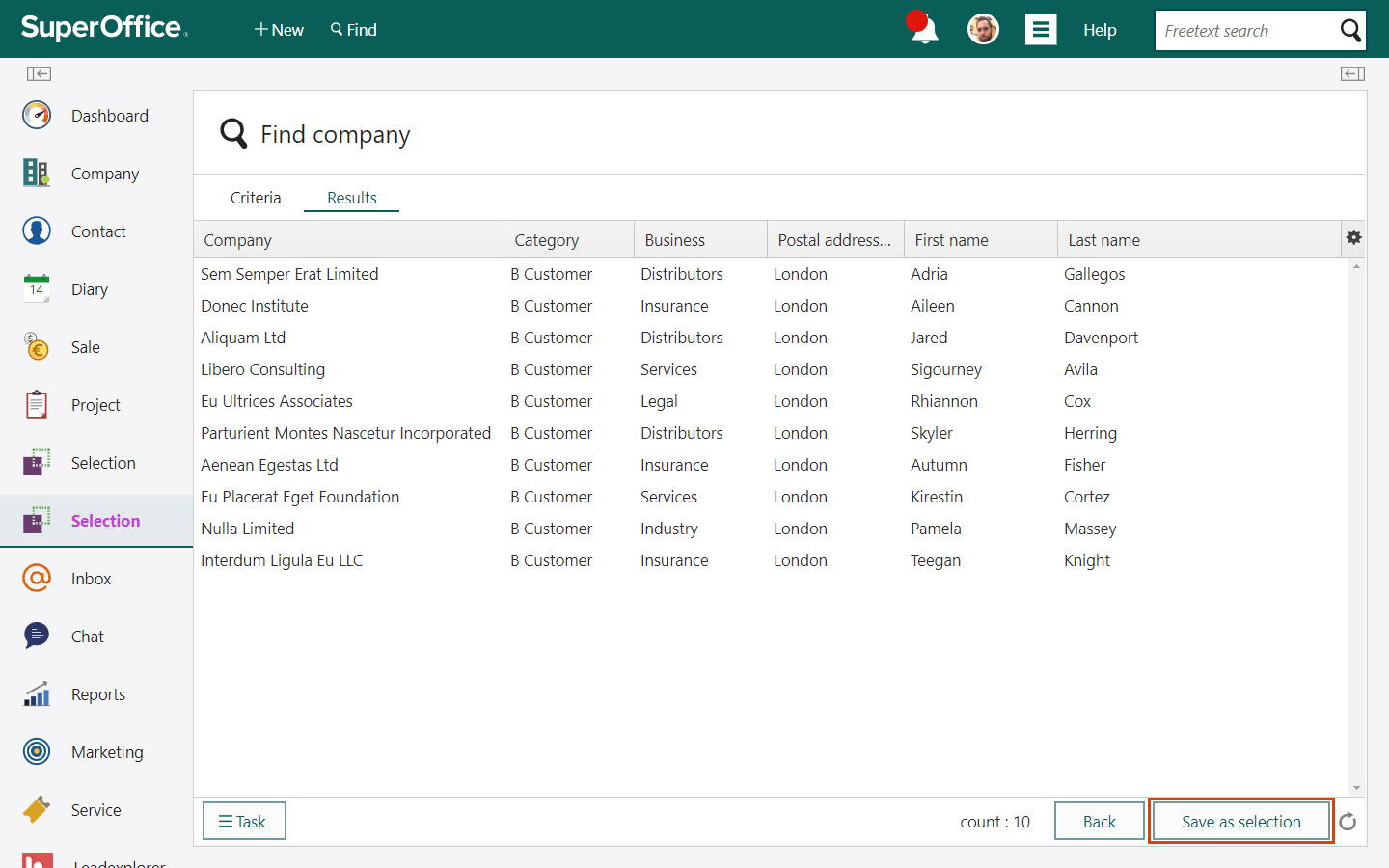 Only save the searches and selections you want to save
Learn how to create a search and save it as a Selection (English only)
Fun, hands-on training
To help you get familiar with the new way to search, we have teamed up with Attensi – a gamified simulation training provider – and created learn-by-doing training games for everyone.
Available via the What's New splash screen (which you can always find in the Help menu) this simulation training will take you through some use-case examples for how to create, save, and edit selections, as well as perform various tasks with your results.
You can use the hints, show-me demonstrations, and practice as many times as you want – to make sure you're a top performer!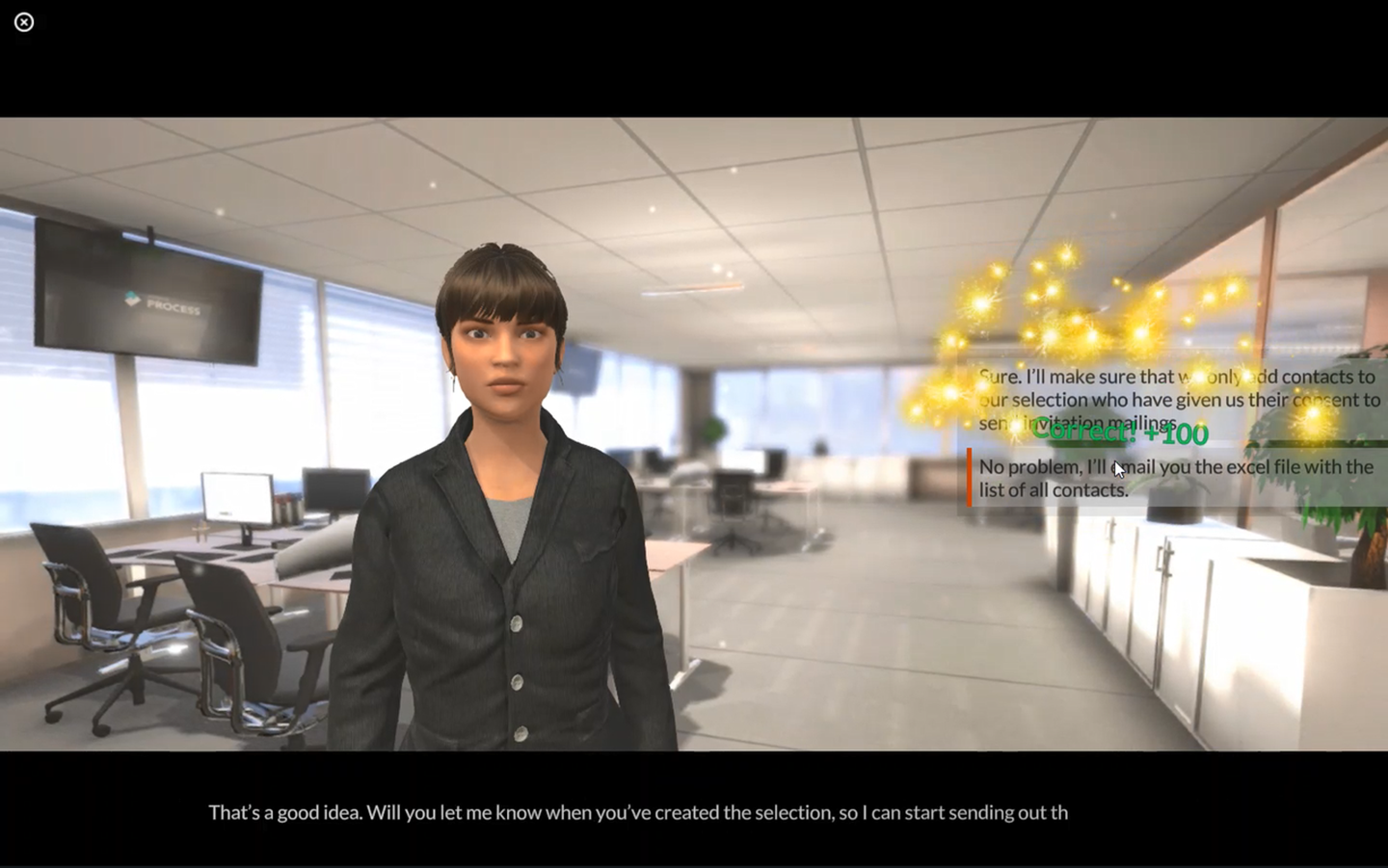 Learn how to use the new features with gamification training
Availability
If you are a SuperOffice CRM Online user, you will be automatically upgraded in late October to early November 2020, and you can begin using these new features immediately.
If you have SuperOffice CRM installed on your premises, your organization must upgrade to the 9.2 version. This version will be available to download in late November 2020. Please contact us if you would like to upgrade your SuperOffice CRM installation or migrate to the cloud.
Note: The SuperOffice Mobile CRM app is now available in app stores. If you are using version 9.1 or later, you can download and install the new mobile app and benefit from the new design, faster speed, and upcoming features.
Related content: