Key highlights:
Store E-marketing content permissions and interests
The GDPR regulation puts the power back into the hands of individuals when it comes to direct marketing.
According to many European laws that govern local marketing practices, a business is only allowed to send digital marketing messages to people who have given you their permission to do so. In the new marketing arena, sending relevant and expected communications requires a company to know and track what type of communications a person wants to receive.
SuperOffice CRM offers a range of new features to help your business manage this.
E-mail permissions are a type of explicit consent and these can be stored in SuperOffice CRM.
SuperOffice CRM helps you to store this kind of explicit consent, as mentioned under Consent Management.
In addition, you want to make sure that you don't send e-marketing messages to people who have not given you their consent to do so.
There is a new feature in Mailings that helps you avoid this kind of situation.
This feature in Mailings, will help you to automatically avoid sending E-marketing messages to anyone who has not given their consent to do so.
In addition, your contacts have an opportunity to tell you what type of content they want to receive from you. This is what we call "Subscription Management".
By creating different categories of mailings, you can send your target audiences relevant and expected communication at the right time, as well as yield better results from your E-marketing campaigns.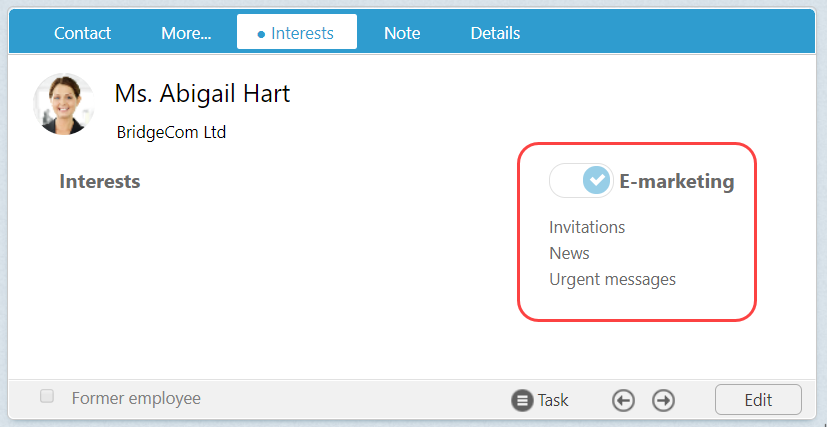 Learn how to create different subscription types inside SuperOffice CRM.
Create a personal URL to set subscription preferences
Your contacts will be able to update their subscription preferences via a personal subscription web page generated by SuperOffice CRM.
The actions a person takes on this page, for example: opting in or opting out to different types of mailings, are automatically registered in SuperOffice. No more manual updating of lists or contact interests! Instead, you'll always have up-to-date and accurate data about your target audiences' subscription preferences.
You can include this URL link in various one-to-one mails such as; in the automatic confirmation email sent when a contact is first registered, or you can include it in any standard email or mailing template in SuperOffice CRM.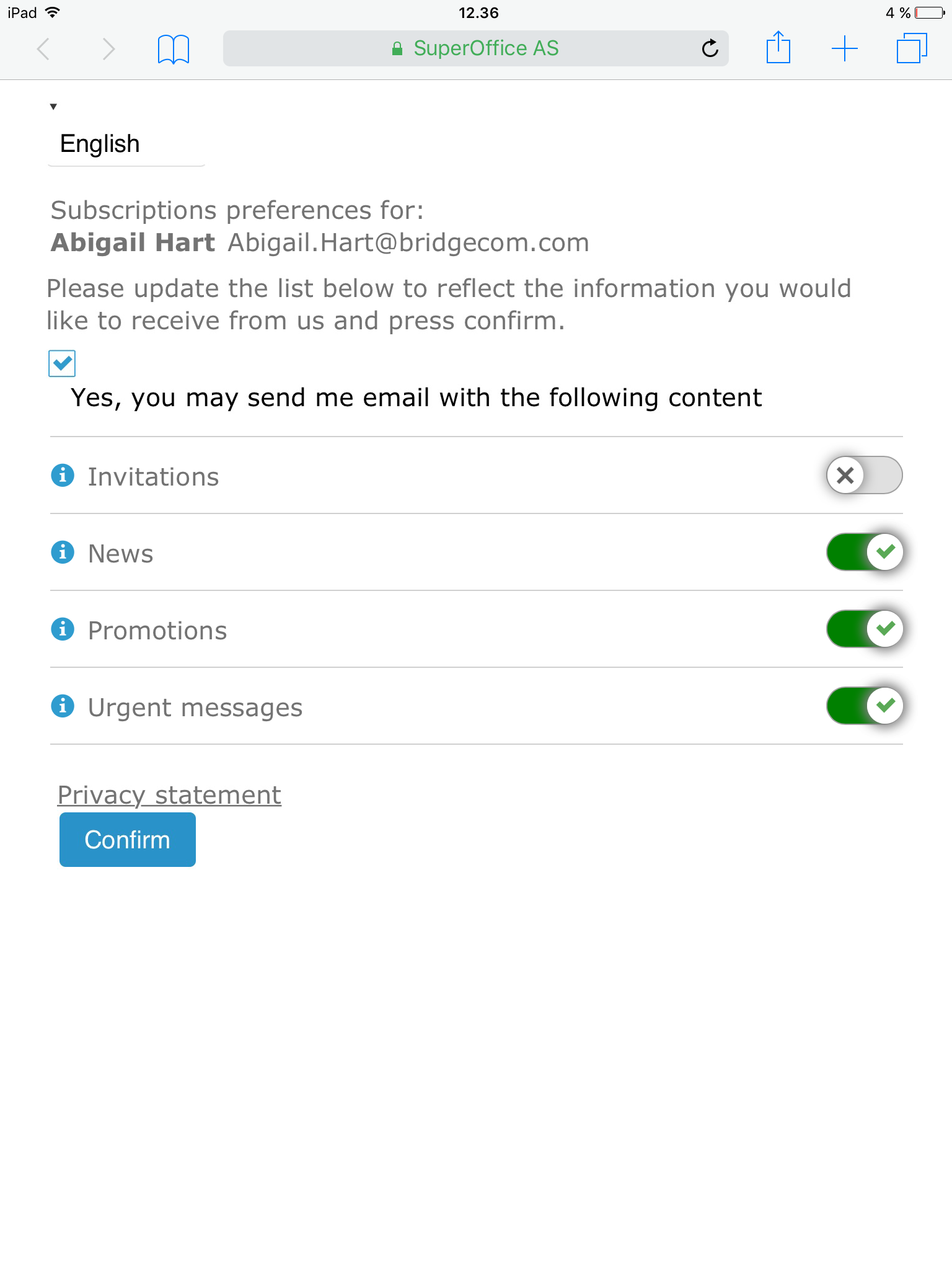 Track E-marketing preferences
All consents and legal basis you register in SuperOffice CRM are visible when you click the field "Legal Basis" on a contact card. This also includes the consent for E-marketing. This particular consent is also visible in the contact's Interest tab.
Once a contact has said "yes" to receive your E-marketing communications, different categories of content mailings, i.e. subscription types, will then become visible.
This will help you know what preferences a particular contact has set.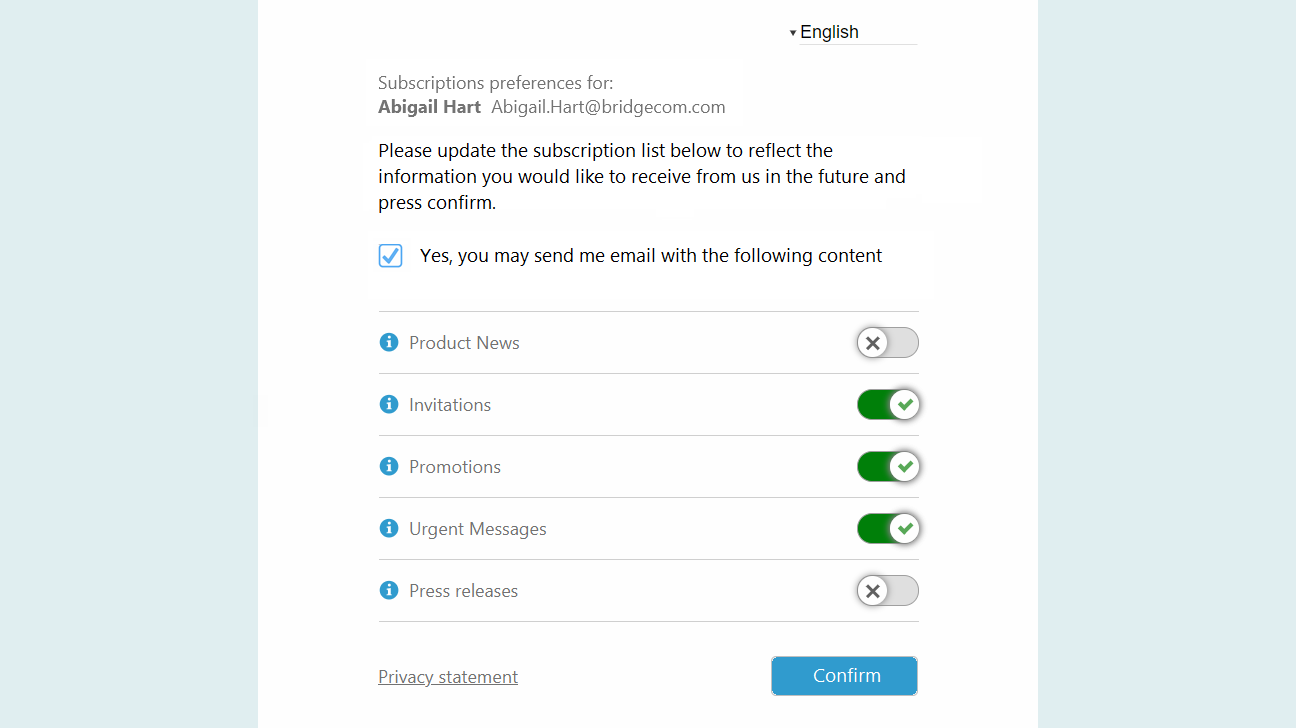 If the person changes his mind and decides to remove his consent for E-marketing, he can withdraw it on his personal webpage.
This action will turn the E-marketing button off in your SuperOffice CRM database, and the customer's consent will be registered as "Withdrawn". Then, the mailing types will no longer be visible. In the new version of SuperOffice CRM, the withdrawn E-marketing consent now replaces the "No mailing" tick-box and the contact is automatically omitted from any mailings.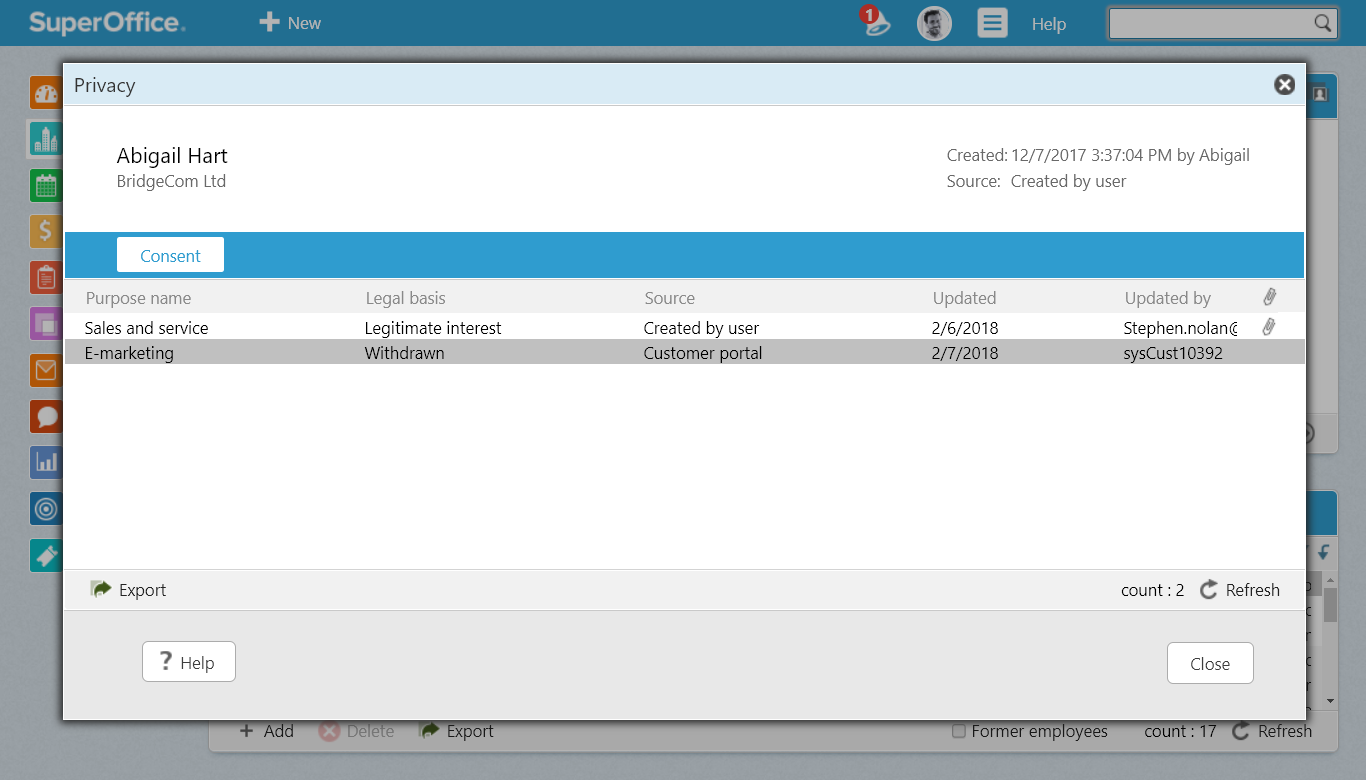 Let the system verify E-marketing privacy settings for you
As mentioned, in many European countries, you are only allowed to send digital marketing messages to people who have given you their permission to do so.
You can set up the system to ensure that you don't send any messages to people who have not given you consent.
In addition, the system will ensure that a person only receive the types of mailings that he or she has requested.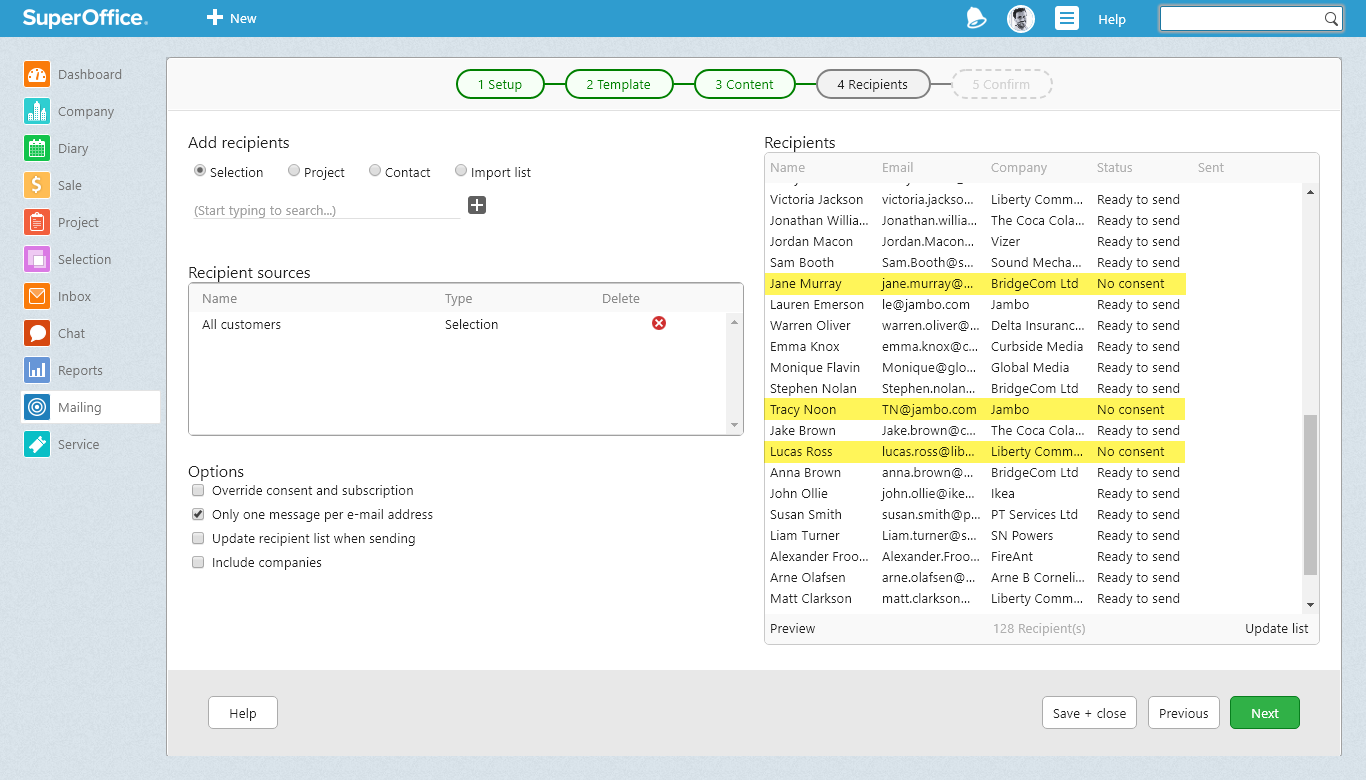 You can activate this feature in the Settings and Maintenance module in SuperOffice CRM. Until you do, SuperOffice CRM will disregard consents and subscription preferences and there will be no change in the way you use Mailings today.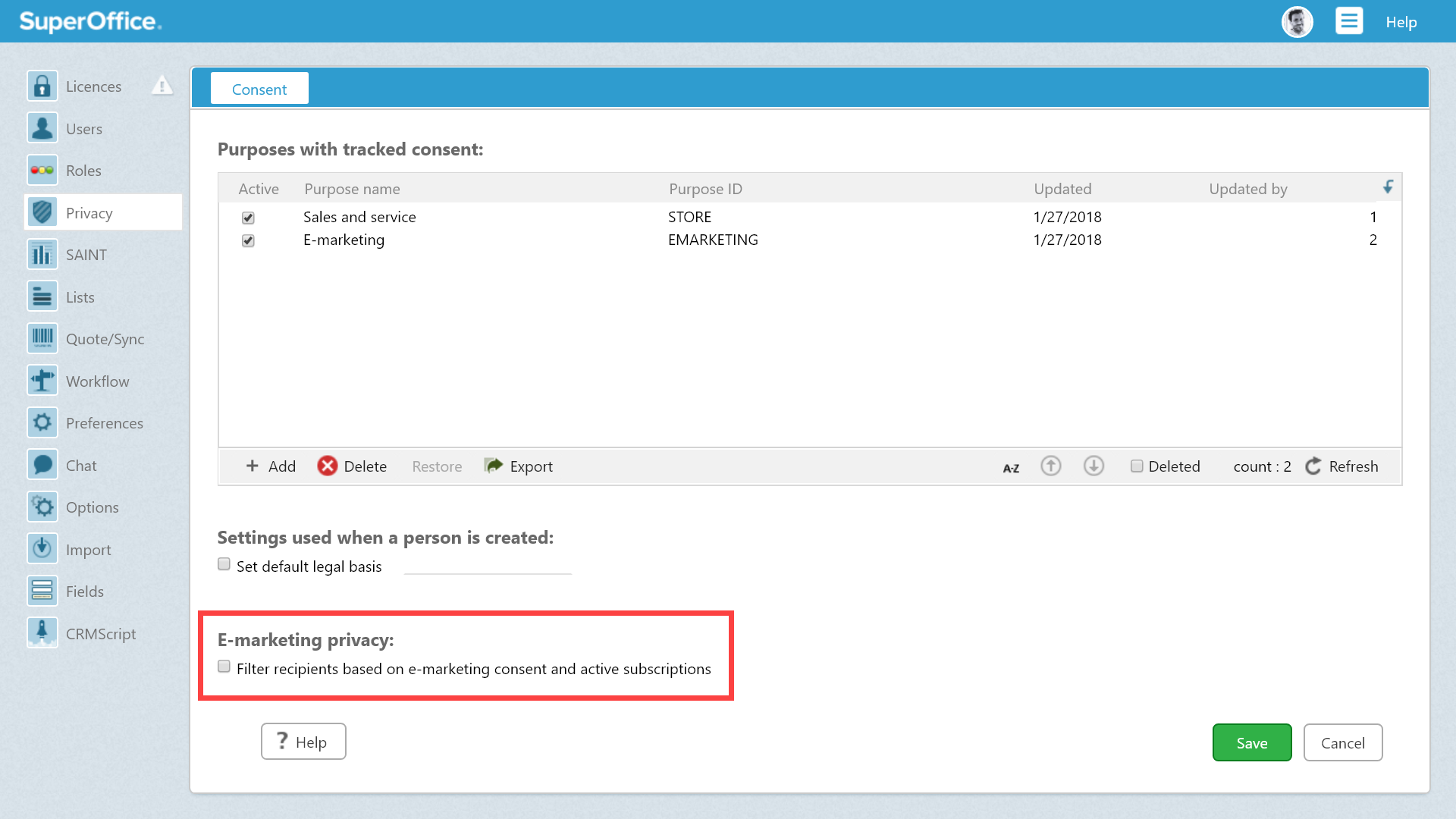 Create mailing lists based on subscriptions
Creating target groups for your marketing activities is easier with the help of the new Subscription Management features.
Since your contacts will be able to let you know what type of mailings they want to receive, all you'll have to do is make a selection based on the subscription type you wish to send out.
By giving your target audience what they are asking for, you will improve the results of your mailings.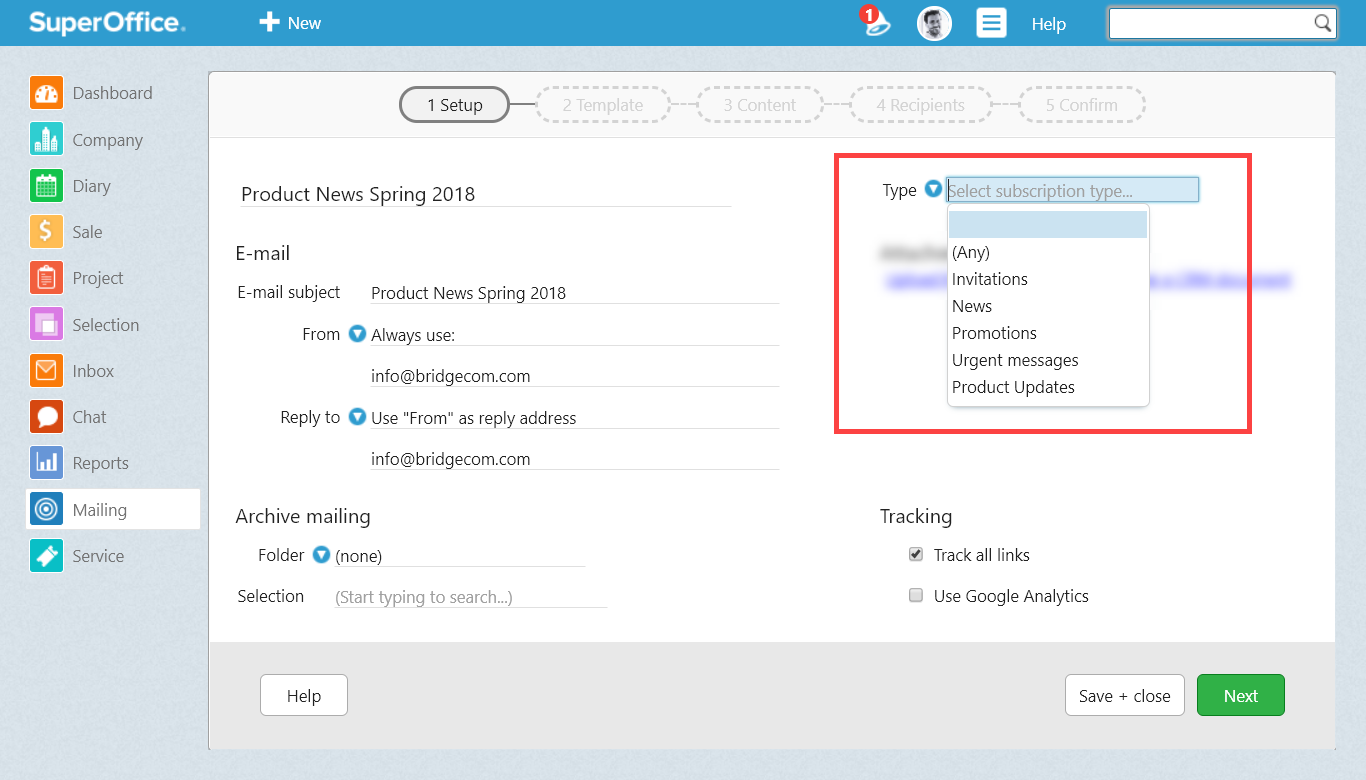 Sometimes you may need to send a message to your contacts independent of their subscription preferences. For example, you might want to send an urgent message to your existing customers.
If you have activated the automatic filtering feature in Mailing, the only way to override the consent and subscription rules is by giving a user role the specific rights to do so. You can do this inside Settings and Maintenance.
Pricing and availability
The users of SuperOffice CRM Online and SuperOffice 8.2 web or windows versions will get the latest Subscription Management features free-of-charge, included in all user plans.
The new Consent management features are available on March 13.
If you are a CRM Online user, since you've been automatically upgraded, you can begin using these new features immediately.
If you have SuperOffice installed on your premises, your organization must run the 8.2 version of SuperOffice or newer.
Please note, that if you are using an earlier version of SuperOffice CRM, you'll need to upgrade in order to get access to the Subscription Management set of features, as well as the other new privacy features.
Related content